These vendors have paid a fee to advertise their products and services on this website.


Disclaimer: Please note that the publication of these advertisements is not an endorsement or recommendation of these products/services by the National Baptist Convention, USA, Inc.
---
---

Featuring...

Goodbooklets.net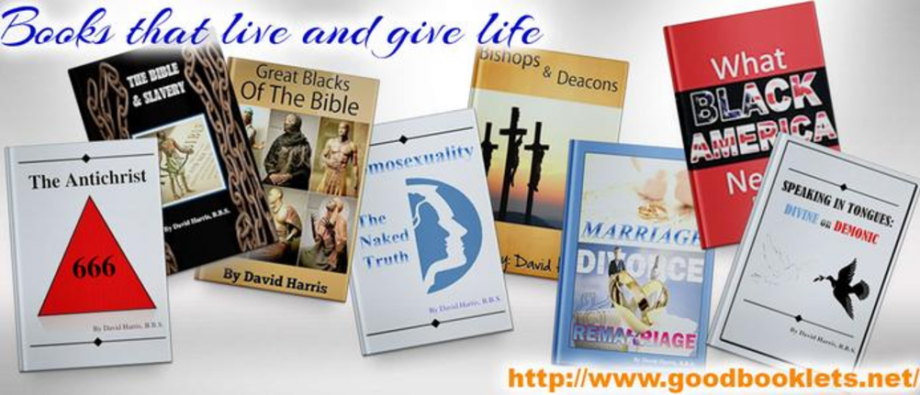 Goodbooklets are a collections of good, mini Christian e-booklets. They are designed to point the reader to the one and only true book of books, the holy bible. This collection covers a variety of exciting and sometime controversial topics. Such topics are: Marriage & Divorce, The Bible and Slavery, Speaking in Tongues, Homosexuality, Interracial Relationships, End Time prophecy and more. Whether you're a pastor, deacon, choir director or just a student of the scriptures, the good booklets e-booklets series is written entirely with YOU in mind. You see, we believe what the bible actually says, not what some presume it teaches. These are powerful learning tools and written with care for easy understanding and enjoyment. Get your good booklets collection today---after all, it's your time to be blessed.
Click links in the Marketplace Resources List (below) for more information
---
Marketplace Resources
Click on the image or "download" link to view the documents.
Harris Enterprises - GoodBooklets.net

Goodbooklets are a collections of good, mini Christian e-booklets. They are designed to point the reader to the one and only true book of books, the holy bible. This collection covers a variety of exciting and sometime controversial topics. Such topics are: Marriage & Divorce, The Bible and Slavery, Speaking in Tongues, Homosexuality, Interracial Relationships, End Time prophecy and more. Whether you're a pastor, deacon, choir director or just a student of the scriptures, the good booklets e-booklets series is written entirely with YOU in mind. You see, we believe what the bible actually says, not what some presume it teaches. These are powerful learning tools and written with care for easy understanding and enjoyment. Get your good booklets collection today---after all, it's your time to be blessed.

Big Kids Doing Big Things

GECAM Sermon Writing Service & Zazzle Jazzy Ties

GECAM Sermon Writing Service

Rev. Dr. George L. Booker, Retired Army Chaplain

Email: revbooker6@gmail

Cell: 404 998-9915

Sermon Titles Examples

I Don't Wanna Go to Hell
This is My Beloved Son
We are Blessed

4 Dynamic African American sermons for working Pastors $100.00 dollars

---

Zazzle Jazzy Ties

Visit:

Zazzle.com\gecam1212