2016 Aetna African American History Calendar
The flavors of community
African Americans inspiring lives through food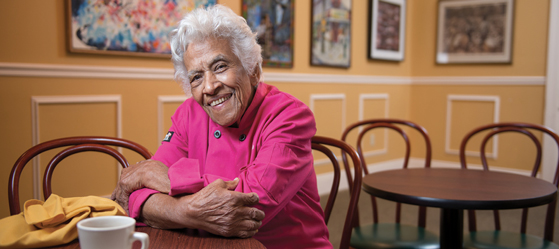 Leah Chase, Chef, Dooky Chase's Restaurant; Philanthropist; "Queen of Creole Cuisine"
New Orleans, Louisiana. "We need to get people back to the dinner table, to talk and practice good manners and eat simple meals.
Because family is where it all begins."
T
he power and importance of food is unique in every culture. Food sustains us. It keeps us well. It preserves our history. It brings us together. Through food, individuals can transform their lives – and entire communities.
Aetna is proud to celebrate the rich and meaningful history of African Americans in the culinary arts in our 35th anniversary edition of the African American History Calendar. This calendar is a tribute to the flavors of community, and the role that African American heritage cooking has had and continues to have on our collective food culture.
This influence extends beyond the recipes, beyond the plates, and into the greater world. African American chefs, activists and food experts are building healthier communities. They are changing perceptions of healthy eating through their work in the culinary arts.
Food is part of the journey – and the journey itself is remarkable. Leah Chase's famous Creole cuisine has fed presidents and fueled a historic movement. Rodney K. Taylor's farm-to-school program is giving more children access to healthy food. Toni Tipton-Martin is reminding us of the African American roots in American cuisine. Haile Thomas is forging a path for a new generation of healthy eaters.
The 13 individuals you will meet in this 35th anniversary calendar are using food to improve lives and make an impact. Read about their contributions and sample their healthful recipes. Watch them tell their stories in the new online video series. Be inspired to create your own recipe for a healthier life in a healthier world.
Click this link to download a PDF of the 2016 Calendar.
Calendars may also be purchased from Aetna by visiting this link: Aetna African American History


---
Wardlaw Brothers Tribute to Black History



---

History.com

Each year in the United States, February is dedicated as Black History Month. What began as the grassroots effort of African-American historian Carter G. Woodson has grown into a national time to honor the triumphs and struggles of African Americans throughout history.
Click to visit our selection of video on Black History
.
---
BlackPast.org

This 13,000 page reference center is dedicated to providing information to the general public on African American history and on the history of the more than one billion people of African ancestry around the world. Visit BlackPast.org
---
Hymn Lining: A Disappearing African American Tradition
This African American History Month, meet Troy Demps, 86, who is trying to preserve the haunting art of "hymn-lining". A celebrated tradition that dates back to slavery, hymn lining incorporates African tonal languages and rhythmic and percussive hand clapping and stomping.
---
Odyssey Networks: Rev. James Forbes Jr.: Why Black History Month
Black History Month is celebrated in the United States all throughout February. When there has been a time in a country's life when "difference" suggested "deficiency," says the Rev. Dr. James Forbes Jr., history "cries out for an opportunity" to celebrate the richness of the formerly closed-off culture. Dr. Forbes is president and founder of the Healing of the Nations Foundation and senior minister emeritus of The Riverside Church in New York City.
More on Odyssey Networks:
---

LIFE and Civil Rights: Anatomy of a Protest, Virginia, 1960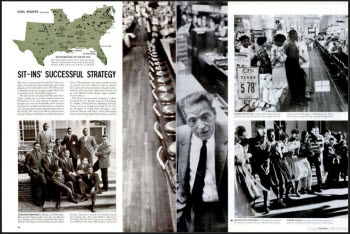 ...Here, as Black History Month kicks off, LIFE.com presents a gallery of photos — many of which never ran in LIFE magazine — from a series of protests and sit-ins in Petersburg, Virgina, in May 1960, and from a broader-themed planning conference sponsored by Martin Luther King Jr. and the Southern Christian leadership Council at Atlanta University earlier that month. The pictures, by LIFE's Howard Sochurek — a Princeton grad, Neiman Fellow at Harvard and WWII Army vet — capture one small but significant exemplar of the sit-in phenomenon, as well as some of the unusual training methods that potential sitters-in endured before taking to the streets and to the seats... Read more
---