2015 Mid-Winter Board Meeting Highlights
President's Mid-Winter Board Meeting Message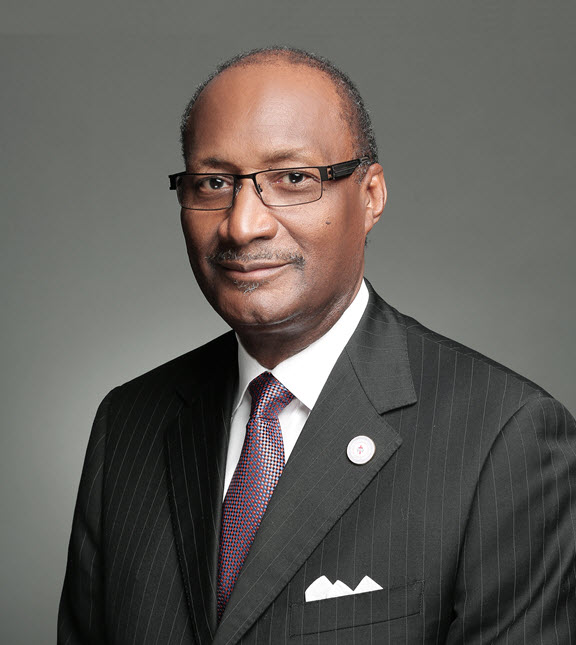 January 12, 2015
To the Officers, Board Members, Pastors, Preachers, Messengers, and Friends of the National Baptist Convention, USA, Inc.:
Once again, allow me to experess my authentic appreciation ot those of you who have demonstrated your commitment to Christ, His cause and our Convention through your faithful and fruitful contributions towards the continuous growth and development of our Convention. I greet you in the merciful, the marvelous, and the magnificent name of Him who does all things well, even Jesus, who is the Christ. What a tremendous privilege for me to welcome you to the State of Mississippi and particularly to the city of Jackson!
The most significant concept that is inextricably linked to our theme, "
Envisioning the Future Exceptionally,"
is that we as a Convention must not be subdued by our failures nor restrained by our successes but rather we are to maintain a holy dissatisfaction with the status quo. To that end, I challenge our Convention to a concise estimate of our present condition, a conscious erasure of the past and a concentrated effort for future approbation...
Click here to read the full message
---
The Young Administration
Elected and Appointed Officials as of 1/12/2015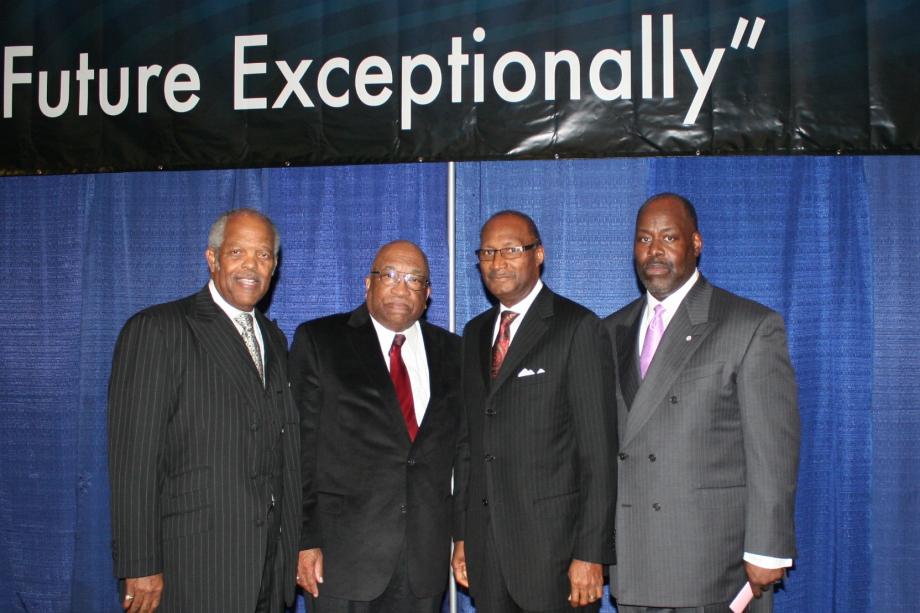 Pictured: John Reed, Fred Campbell, Jerry Young, Calvin McKinney
Jerry Young (MS)
President

Harry Blake (LA)
Vice President-At-Large

Donaldson Jones (AL)
Spec. Ass't to President

Jesse V. Bottoms (NY)
NE Region VP

Clarence Moore (GA)
SE Region VP

Vernon Swift (AL)
SW Region VP

Rogers Kirk (AL)
MW Region VP

John Reed (OK)
West Region VP

Claybon Lea, Jr. (CA)
Far West Region VP

William Thompson (BA)
Int'l Relations VP

Calvin McKinney (NJ)
General Secretary

James Blassingame (SC)
Assistant Secretary

Alvin Edwards (VA)
Assistant Secretary

Isiac Jackson (MS)
Assistant Secretary

Marion Johnson (IN)
Assistant Secretary

Fred Campbell (CA)
Chairman, Board of Dir.

Ricky D. Turner (KS)
Treasurer

Albert G. Davis (PA)
Assistant Treasurer

Kenneth D. R. Clayton (NJ)
Statistician

Thomas Morris, Sr. (MS)
Parliamentarian

D. Edward Chaney (NV)
Asst. Parliamentarian

Melvin B. Girton, Sr. (IN)
Historian

George W. Waddles, Sr. (IL)
Pres., Congress of Christian Educ.

Elliot Cuff (OH)
Dean, Congress of Christian Educ.

Hugh Dell Gatewood (TX)
President, Woman's Auxiliary

Matthew L. Canada (MS)
President, Moderator's Division

Willie Burke (NJ)
President, Laymen's Movement

James McHenry (OK)
President, Ushers & Nurses Aux.

Angelique Banks-Coleman (NY)
President, Music & Worship Arts Auxiliary

William B. Moore (PA)
Chairman, Foreign Mission Board

Michael D. Warren (FL)
Chairman, Home Mission Board

Gilbert Pickett (NY)
Exec. Sec'y, Home Mission Board

O.K. Patterson (MO)
Chairman, Evangelism Board

Alvin Love (IL)
Chairman, Faith Based Initiatives

Willie Gable, Jr. (LA)
Chairman, Housing Commission

Bernard Mitchell (MS)
Chairman, Late Night Service

Darian Brown (PA)
Chairman, Registration Committee

Calvin Cage (DC)
Chairman, Concessions Comm.

Frank Raines III (MI)
Chairman, Labor Relations Comm.

Harold Simmons (MO)
Chair, Prison Min. & Crim. Justice Comm.

Ervin R. Millsaps (IL)
Devotional Leader

C. Dennis Edwards, I (AR)
Chairman, SSPB

Derrick Jackson (TN)
Exec. Director, SSPB

Dr. Robert Scott Jones (PA)
Director, Admin. Transition
---

Photograph Galleries
Directions: Click the links below to select the photograph gallery of your choice. Questions? Contact Denise at webmanager@nationalbaptist.com.
| | |
| --- | --- |
| Inauguration Banquet, January 12, 2015 | Opening Session, January 13, 2015 |
| Afternoon Session, January 13, 2015 | Evening Session - Installation, January 13, 2015 |
| Morning Session, January 14, 2015 | Evening Session, January 14, 2015 |
| Closing Session, January 15, 2015 | |
---

General Information Downloads

---