The President's Education Banquet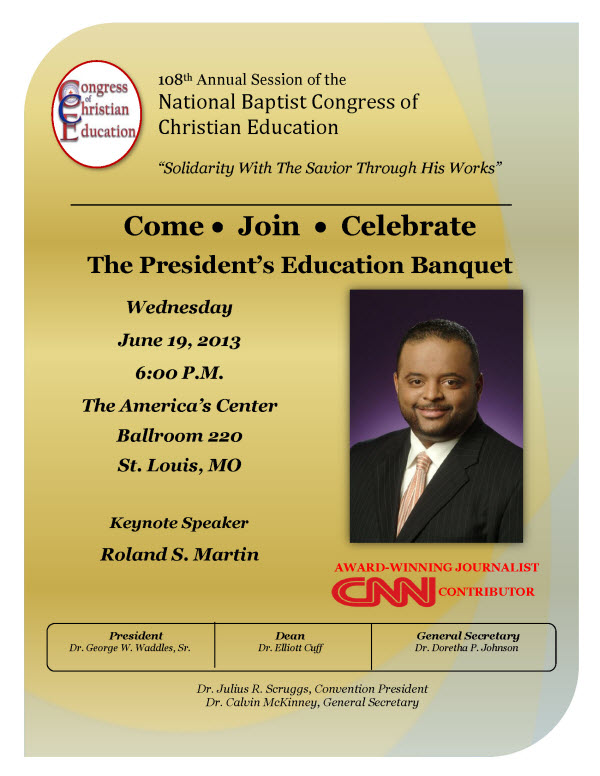 VIP Tickets: $100.00
General Tickets: $50.00
To order tickets, visit the Local Entertainment Committee website at:
About Roland S. Martin
[The following is taken from: http://www.rolandsmartin.com/page/about.cfm]

Roland S. Martin is a nationally award-winning and multifaceted journalist.
A nationally syndicated columnist with Creators Syndicate, Mr. Martin is the author of Listening to the Spirit Within: 50 Perspectives on Faith, and Speak, Brother! A Black Man's View of America, and his newest book, "The First: President Barack Obama's Road to the White House as originally reported by Roland S. Martin."
Mr. Martin is a commentator for TV One Cable Network and host of "Washington Watch with Roland Martin," a one-hour Sunday morning news show. He is also a CNN Analyst, appearing on a variety of the network's shows. In October 2008, he joined the Tom Joyner Morning Show as senior analyst.
Named by Ebony Magazine in 2008, 2009 and 2010 as one of the 150 Most Influential African Americans in the United States, he is the 2009 winner of the NAACP Image Award for Best Interview for "In Conversation: The Michelle Obama Interview." He is the 2008 winner of the NAACP Image Award for Best Interview for "In Conversation: The Sen. Barack Obama Interview..." Read more