iROCK 2016 Young Adult Explosion and Café
---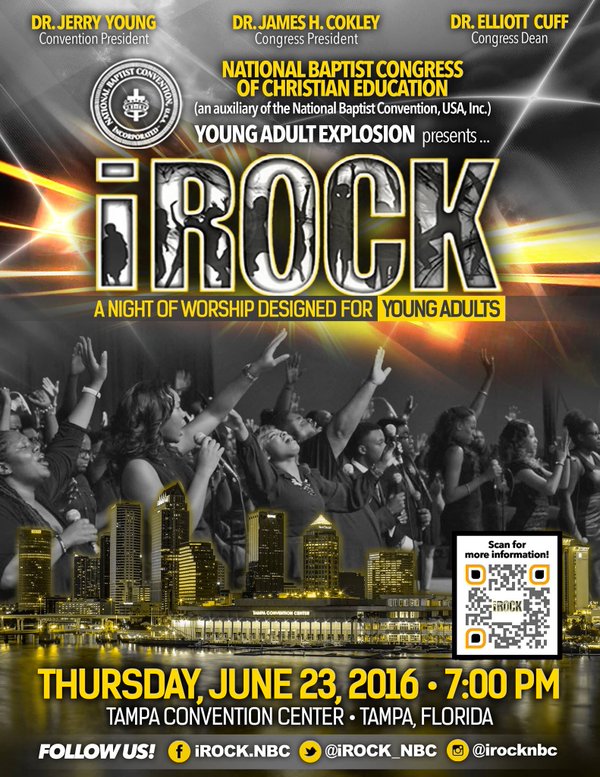 [click image to download the poster]

What is iROCK?

iROCK is the Young Adult Explosion worship service at the National Baptist Congress of Christian Education Annual Session. It is designed with young adults in mind, aged 19 - 35.
Click to download the schedule ►

iROCK is an exceedingly superb demonstration of young adult innovation, spiritual authenticity, and teamwork. From the integration of music, dance, drama, and mime to the integration of thematic preaching, to the integration of a live Twitter feed and screen graphics, the worship theme is both moving and inspiring.
iROCK Encourages
Integration of scriptural reflection and ministry praxis, and
Increased regular practice of spiritual disciplines among young adults (i.e. scripture reading, prayer, service to others, spiritual friendships, giving and worship)
With constant prayer, planning, and execution,
iROCK 2016 promises to be the best one yet!
---
Please join us in 2017 for the iROCK Café
IMPORTANT MESSAGE: Due to unforseen circumstances, we were unable to secure a location to host the iROCK Café in Tampa. Please join us in 2017 for the next iROCK Café.
The iROCK Café is a fellowship venue and exists to provide a creative and spiritually exalting experience for Young Adults and all others who attend. Song, expressive dance, mime and thought-provoking oratory are coupled with an atmosphere of faith, food, fun and fellowship. The iROCK Café is more than just a fellowship. The iROCK Café utilizes the gifts and talents of participants in order to support the fact that the world can be impacted and the gospel proclaimed though expressive and progressive art forms without compromise.
Past experiences have shown that the
iROCK Café
effectively produces and encourages current and aspiring spoken word artists, singers, dancers, and orators to find an expressive boldness during Congress week. This type of boldness produces CONFIDENT and PROFICIENT speakers and leaders on the local, state, and national levels.
iROCK Café: "Where Godly Identity and Expression Meet"
---
Social Media

| | | |
| --- | --- | --- |
| iROCK.NBC | @iROCK_NBC | @irocknbc |

"Official" Hashtags for the Congress Annual Session:

#iROCKNBC2016 #CongressNBC2016 #NBCUSA2016
---
---

iROCK Photograph Galleries
Click on the year to view the photographs. Enjoy!