The 112th Annual Session of
National Baptist Congress of Christian Education
June 19-23, 2017 - St. Louis, MO

---
Note: Exhibitor Packets will be mailed out in early May
Venue Information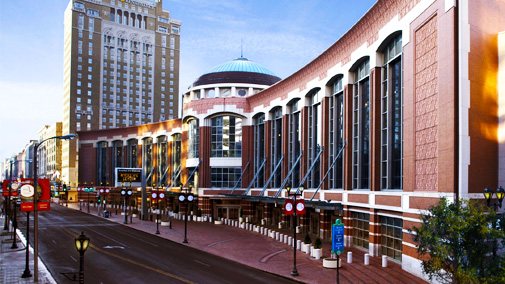 Exhibit Hall Schedule, Hall #3
Exhibitor Move In

Exhibit Hall Hours

Exhibitor Move-Out

Saturday, 6/17 - 9am - 5pm
Sunday, 6/18 - 8am - 5pm
Monday, 6/19 - 8am - 11am
Monday 6/19 - 12 pm to 7 pm;
Tuesday 6/20- Wednesday 6/21 - 9am - 7pm
Thursday 6/22 9am - 11pm
Friday 6/22 - 9am 3pm
Friday 6/23 3pm - 8pm
---

Booth Information
We are now accepting applications for concessions and exhibit booths at the 112th Annual Session of the National Baptist Congress of Christian Education to be held in St. Louis, MO at the America's Center. Booths include a table, table covering, chairs, wastebasket and small sign. Upon acceptance of your application, information on shipping procedures and securing carpet, electricity and Internet service will be emailed to you. Please be sure that you have entered your email address correctly!
Booth Prices: $800.00 Regular | $850 Corner

How to Submit Your Application
There are two ways you can submit your application for a booth space: By Mail or Online. Credit card payments are only accepted with applications submitted online. Applications submitted by mail must be accompanied by a certified check or money order. Payment must be made in full at the time of application and no later than June 14, 2017 for mailed applications and June 23, 2017 for applications submitted online. THERE WILL BE NO REFUNDS! Credit toward a future event
may
be granted at the sole discretion of the Director in cases with extenuating circumstances. All vendors must agree to abide by the Governing Rules and Regulations of the Concessions Commission of the NBC, USA, Inc.

ATTENTION: NBC Auxiliaries: Please Contact the Concessions Office for Pricing Information and Payment Instructions Prior to Submitting Your Application
[Click the application method of your choice to get started.]
Apply Online by June 23, 2017




Click the image to submit your application and payment online. Please be sure to allow pop-ups and cookies in your Internet browser. If you have any technical difficulties, you may contact the Web Manager by email at: webmanager@nationalbaptist.com. Expect a response within 48 hours.

Apply by Mail by June 14, 2017




Click the image to download a fillable PDF. You may type your responses, save the form to your computer and then email it to the Concessions Commission to get your application started as soon as possible. Payment and a copy of your application must be sent by US Mail, UPS or FedEx immediately after submitting your application by email. Your booth will not be secured until payment is received.
Online Transaction Policies.
All sales are in US Dollars and are final unless otherwise noted. Unintended duplicate payments may be refunded upon request to Customer Service. For Customer Service, contact Ms. Jeanette
Tatman
, by phone (615) 301-2224 or by email at
jtatman@nationalbaptist.com
.

---

Questions? Contact Us:
Concessions Commission of the National Baptist Convention, USA, Inc.
Reverend Calvin E. Cage, Sr. Director of Concessions and Exhibits
Meridian Hill Baptist Church
5354 Sheriff Road
Capitol Heights, MD 20743
Office: (301) 773-2333

Fax: (301) 322-1333


Email: nbc.concessions@verizon.net