Annual College Fair

The National Baptist Congress of Christian Education will hold its 108th Annual Session in St. Louis, Missouri on June 17-21, 2013. This session will be held at the America's Convention Center in downtown St. Louis, with an anticipated attendance of over 25,000 registered delegates. While the main thrust of the meeting is Christian Education Training, the Congress will be sponsoring our Second Annual College Fair from June 18-20, 2013.
Opportunities and Benefits for Colleges:
This college fair will provide an opportunity for participating colleges and universities to provide information about obtaining a college education and financial aid to the delegates attending the session both traditional and non-traditional students.
Supporting Partner: minimum $25,000

A private luncheon with at least 100 national and state officers and leaders representing churches or conventions with membership in the thousands.
Public recognition of your partnership
An opportunity to share your message with 25,000 – 30,000 attendees

College Fair Vendor: $1,500*

A booth at our College Fair where your staff can display and disseminate information and/or give-a-ways for the three days of the College Fair
An opportunity to share your message with 25,000 – 30,000 attendees

* rate varies dependent on the nature and classification of your organization

College Fair Vendor Booths: $300.00 (download vendor application below)
After reviewing the application form, our hope is that you will make a decision to participate in this year's Annual College Fair. If you have questions or require additional information, please do not hesitate to contact me at (708) 692-2026.
---

Students: Why You Shouldn't Miss This Opportunity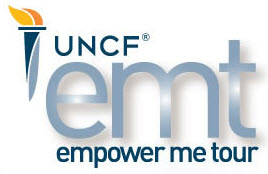 We are equally excited about the full support of the United Negro College Fund Corporation, who will also be on-site bringing elements of the UNCF Empower Me Tour to our delegates.
The Empower Me Tour, will focus on college readiness, college completion and financial preparedness in a fun and exciting environment, to this year's conference. The UNCF Empower Me Tour is part of UNCF's effort to foster a college-going culture in the African American community.
Since its founding almost seventy years ago, UNCF has enabled nearly 400,000 African-American and minority students to earn college degrees from UNCF member HBCUs and with UNCF scholarships. With more than 400 scholarship, internship and fellowship programs, like the Gates Millennium Scholars Program and the UNCF/Merck Science Initiative, UNCF provides students with the tools and support they need to get to and through college.
We are excited to have UNCF participate in this year's conference. We are encouraging all of our youth and parents to participate in these sessions, which are scheduled from 12:00 noon to 1:00 p.m. on June 18-20, 2013. Bring your lunch and have dessert on UNCF. These are sessions you don't want to miss!
---

Questions? Contact:
Lisha Morris - Coordinator
Email: lmorris324@gmail.com