EVENT DETAILS
The Grassroots Financial Campaign NBC Day
November 4, 2012, 12:00 pm

National Baptist Day - November 4, 2012
Join us for National Baptist Day, a day to celebrate the National Baptist Convention, Inc., its past, its present and promising future. District Associations throughout the nation will be hosting this event, most on November 4th and some on alternate dates.
Submit Your National Baptist Day Event
To add your National Baptist Day event to the Convention's Calendar, click here

---

What is The Grassroots Financial Campaign?
National Baptist Day is part of The Grassroots Financial Campaign, a Convention-wide effort to build financial stability while educating and involving our members in the work of the Convention. The National Baptist Convention, USA, Inc. is one of the nation's largest African-American denominational organizations with members spanning the United States and into Nassau, Bahamas and Germany. Together we serve as a powerful witness, resource and influence for our member churches and the world. We encourage our member churches and district associations to support the Grassroots Financial Campaign. Your support of this campaign not only impacts our Convention today but can propel our Convention in making an impact for years to come. Our goal is simple: raise funds for our urgent financial needs by having each member of a National Baptist Convention, USA, Inc. church give at least $5.00.
Visit http://www.nbcgrassroots.com for more information or CLICK HERE to download important information about how you can participate in and promote The Grassroots Financial Campaign and National Baptist Day, November 4, 2012.
Click the image below to download the flier: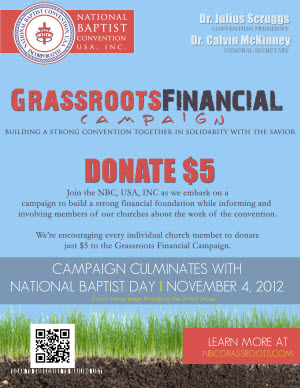 ---
return to home page