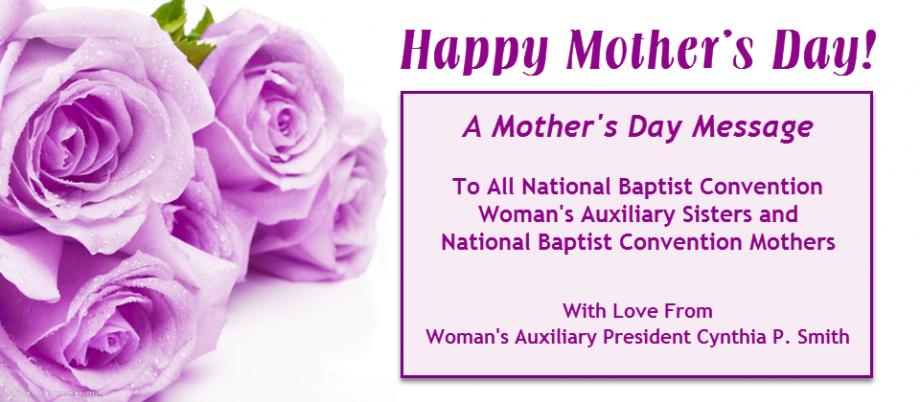 A Mother's heart and a Mother's faith
And a Mother's steadfast love
Were fashioned by the Angels
And sent from God above.

Whether you are a Mother,
Aunt, Sister or Daughter
We are all special to each other.

We pray that God would touch you
And fill your life afresh with His grace and mercy
So you'll know that you are blessed.

For you deserve some time out
To relax in God's love
And reflect on Him with thankfulness
For His blessings from above.


Love,

President Cynthia P. Smith
---


From the Desk of
Sister Cynthia Smith, Woman's Auxiliary President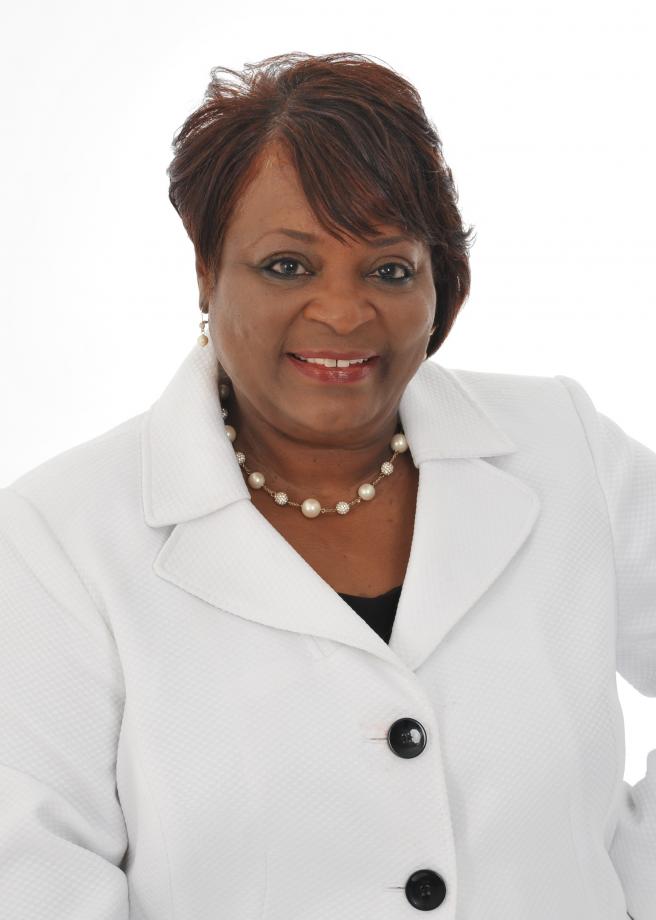 May, 2017
Hello National Baptist Sisters,
Springtime is here with promises of a bright, sunny future.
We envision the future exceptionally for the Woman's Auxiliary, all for His glory! We invite sisters to become active in this ministry. We are an all –inclusive ministry and we need you!
Let me take this time to say Happy Mother's Day to all. If you are not a biological mother I'm sure that you have impacted the life of some child or children in a motherly fashion.
This month we will celebrate National Baptist Women Day of Prayer. A flier and suggested Order of Service are included. We thank God for the privilege of prayer.
On June 19, 2017 @ 3:00 pm, the Woman's Auxiliary will meet at the Convention Center during the Congress of Christian Education Week in St. Louis. Please observe signs for designated area. Our Editor, Sister Elvira Dorcas will have the Spring Edition of the Baptist Woman available. If you haven't already subscribed, you can pick up a copy on site. Final plans for our Annual Session will take place. For the benefit of those who will not attend, information will be made available after the session online.
Let us continue to pray for our President, Dr. Jerry Young and the leadership of the National Baptist Convention, the sick and shut in and the world.
In Sisterly Love,
Cynthia P. Smith
President, Woman's Auxiliary
"And now abideth faith, hope, charity, these three; but the greatest of these is charity"
I Corinthians 13:13
Messages to the Woman's Auxiliary
resource type: file




May 2017 Message to the Woman's Auxiliary

May 2017 message to the Woman's Auxiliary from President Cynthia Smith.

---

resource type: file




April 2017 Message to the Woman's Auxiliary

April 2017 message to the Woman's Auxiliary from President Cynthia Smith.

---

resource type: file




February 2017 Message to the Woman's Auxiliary

February 2017 message from Woman's Auxiliary President Cynthia Smith.

---
Events
Wednesday, November 1 – 12, 2017
All Day Event
Women's Day of Prayer Spiritual Journey to Israel You are invited to join the Woman's Auxiliary on a Spiritual Journey to Israel in celebration of the National Day of Prayer, November 1-10 or 12, 2017. For more information, ...
Read More