Music and Worship Arts Auxiliary
Original Music by Angelique Banks Coleman

Welcome to the Music and Arts Auxiliary web page! It is our hope that you will visit it often to keep yourself abreast of the latest updates in the area of the arts for the church in the 21st century. Visit often and watch us grow! On the left, you will find links to helpful information and resources to help you lift high our Master in worship and keep you informed about the activities of the Music and Arts Auxiliary.

---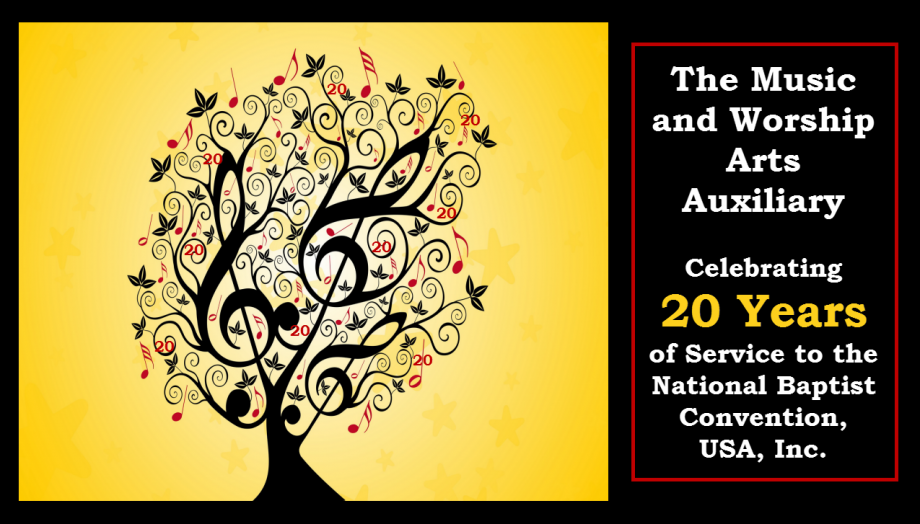 A Message from
President Angelique Banks-Coleman

May 2016

Dear Worshippers:

This year we will celebrate the twentieth year of the National Baptist Convention, USA, Inc. Music Auxiliary! We praise God for this time of celebration! In the coming weeks, visit us often as we bring you the important updates and opportunities of this celebration in September in Kansas City at the Annual Session.

We are also excited to begin to bring you blogs from what we are calling Pastors in Partnership ("PIP"). Each of the contributing pastors are members of our Convention and have a background in some area of the worship arts. Because we view and aver that the pastor is the chief worship leader, we have asked that they partner with us in bringing you Scriptural and theological blogs/articles, workshops and seminars dealing with the music and the worship arts.

By popular demand, we are making the "I Live to Worship" CD available on this website for those of you that missed the opportunity to purchase It before. This CD represents a spectrum of music (anthem, spiritual, hymn, traditional and contemporary gospel, and praise and worship). It will bless you! Send for your copy today!

As we move into the next twenty years, we want to be a blessing to your church, district or state convention. To that end, in the coming weeks, I will also share my vision and goals for our Auxiliary. Hopefully, you will gain a better understanding of how this Auxiliary of your national body can begin to assist you in growing and developing the music and worship arts ministry in your area of responsibility; as well as, how we can enhance the worship experience in our Convention. As you read and note this article you will understand the need for the name change from "Music Auxiliary" to "Music and Worship Arts Auxiliary."

Finally, prepare now to join us in September for a time of reflection, renewal and revival as we celebrate God's bountiful blessing of twenty years of existence. If you cannot join us, we ask your prayers for our growth and development as a viable part of our Convention.

For His Glory!,

Angelique Banks Coleman
President

---

A Congratulatory Message from Convention President Jerry Young
May 3, 2016
Dr. Angelique Banks-Coleman, President
Music and Worship Arts Auxiliary
National Baptist Convention USA, Inc.
Dear Dr. Coleman,
Congratulations to the Music and Worship Arts Auxiliary as you celebrate 20 years of existence as a vital and viable auxiliary within the National Baptist Convention, USA, Inc. As President of our Convention, I delight in wishing you and all of your constituent members a time of celebration, rejoicing and singing praises to our God for His wonderful works through this arm of our Convention.
That music is of great importance in the worship experience is made evident Sunday after Sunday, and indeed whenever the elect of God communes in song or in individual worship. The great philosopher, Socrates, expressed the importance of music when he stated: "Musical training is a more potent instrument than any other, because rhythm and harmony find their way into the inward places of the soul, on which they mightily fasten, imparting grace, and making the soul of him whom is rightly educated graceful…" And so it is with gratitude that I express appreciation to you and the Music and Worship Arts Auxiliary for your faithful training and development of the worship arts through music for the members of our convention who have the awesome responsibility of reaching "the inward places of the soul" as they facilitate worship through song in their various congregations.
We pray that your 20th year celebration is one full of worship, thanksgiving and praise. I encourage each of you to take the time to thank our God for all He has done and entreat you to look, expectantly, to an exceptional, musically blessed future.
Yours in ministry and mission of Christ,


Jerry Young

bj
---

Music and Worship Arts Auxiliary News and Events