Living With H.O.P.E. Blog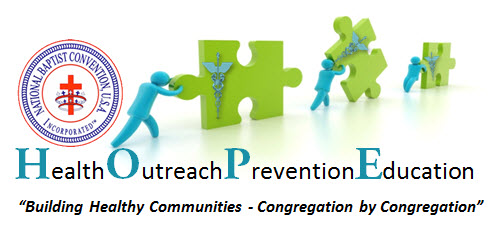 Welcome to our Living With H.O.P.E. blog! Here is where you can engage in dialogue about issues related to congregational health and well-being. You'll be able to share your success stories and resources, ask for advice and encourage and challenge others engaged in the holy enterprise of staying healthy and fit for the work of the Kingdom. Questions or comments about the blog can be directed to webmanager@nationalbaptist.com. Contact H.O.P.E. by email at: hope@nationalbaptist.com.
Together, we can "Live With H.O.P.E."
---
What's On Your Mind Today?

by Denise Mayhan, PhD | February 22, 2012
On February 11, 2012 First Lady Michelle Obama spoke at Northland Church in Longwood, Florida as part of a 3-day tour celebrating the second year of the "Let's Move" campaign to end childhood obesity. During this speech the First Lady mentioned "No Fry Zones" and "Taste Test Sunday"- both are healthy eating initiatives born in National Baptist Churches. She also challenged us to reach our goal of 10,000 Health Ambassadors by September 2012. Health Ambassadors - individuals trained to lead healthy living programs at their local churches - are a product of the H.O.P.E. initiative of the Congress of Christian Education and receive education and support to impact positively the health of their local congregations.
As we are all aware, African Americans are disproportionately affected by many preventabledisease processes. Much of this has to do with our history, culture, social and economic factors that make change quite an uphill battle. H.O.P.E aims to bring HOPE to our communities as we learn to take actions - one small step at a time - that will dramatically improve our health and positively impact our total well-being.
Some of the most significant social and political changes in our country concerning African Americans got their start through education and organizing work mediated from the pulpit.
Can we reverse the trends we see in our congregational health in the same manner?

Are we up for the challenge of becoming the most healthy denomination within the next 10 years?
Will Health Ambassadors make a difference?
What do you think about that? Your comments and recommendations are welcome!