Developmental Disabilities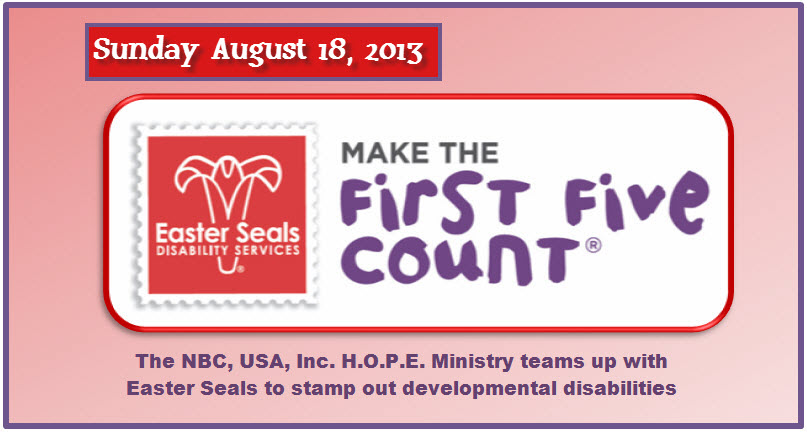 The National Baptist Convention has designated Sunday August 18, 2013 "Make the First Five Count Sunday." National Baptist Church congregations are asked to spread the word about the importance of early intervention and developmental delays on Make the First Five Count Sunday by:
Downloading the Make The First Five Count Sunday Worship Guide Insert for distribution to your membership on Sunday, August 18, 2013.
Encouraging parents to complete the Ages & Stages Questionnaires® at www.easterseals.com giving all parents free access to a valuable screening tool from Brookes Publishing.
Encouraging members of your congregation to go to Easter Seals' Website www.easterseals.com to find the location closest to them where they can access Easter Seals screenings and services.
Background
The first five years of children's lives are years of incredible learning that shape their futures. This, alone, is a reason to assure that all children have access to the resources they will need to learn and grow. Every year, millions of young children with unidentified disabilities and developmental delays enter school with learning and health issues that put them far behind their peers and have a lasting, negative effort on their ability to meet their full potential. Easter Seals strives to be part of the solution in this area. We serve more than 90,000 children each year through early intervention programs – using therapies that work to strengthen children's physical, social, emotional, and intellectual abilities from infancy.
Click here to download General Information and Worship Guide for
Make the First Five Count Sunday
Click here to download the survey to tell us what you did at your church on
Make the First Five Count Sunday

If you have any questions regarding this partnership or need additional information, contact:
Janet D. Jamieson • Director, Communications and Corporate Relations • jjamieson@easterseals.com