Chaplains/Ecclesiastical Endorsement Ministry

Take Our New Chaplain Survey!



Our survey has been updated! If you are a chaplain, please take our brief survey. If you have taken the survey already, please take the new survey as the questions have been refined based on the initial information we received, and offer you an opportunity to tell us what kinds of support services you'd like to see us provide for you.

Attention All Chaplains!


Starting on February 1, 2017
Mail Your Annual Endorsement Fees to:

National Baptist Convention, USA, Inc.
Ecclesiatical Endorsements
c/o Jeanette Tatman
1700 Baptist World Center Drive
Nashville, TN 37207
---
A Message from Dr. Nevalon Mitchell, Jr.,
Ecclesiastical Endorser and Chaplain Institute Instructor


The Professional Development Institute for Chaplains
Congress of Christian Education Annual Session
St. Louis, MO - June 19-23, 2017
2017 Course Objectives/Syllabus:
Provide chaplains, pastors and participants with the tools needed to assist in the identification of potential problems with addictions and mental health issues;
Provide clinical and spiritual insight into the emotional and physical suffering that threatens the wellness of the chapel, the church, the family system, and community;
Provide basic skills and working knowledge necessary for identifying and assessing mental health challenges; substance abuse, addictions, depression, grief, and trauma;
Assist the participants in the identification of potentially harmful personal issues that may strengthen or harm their ministry;
Provide clinical, biblical, and spiritual guidelines to enable a theological understanding of pastoral care and counseling in a variety of settings;
Provide instruction on the Twelve Steps and their biblical comparison for use in the chapel, church, and group settings; and
Provide an overview of the new vision for the chaplains, ministers and others who are endorsed by The NBC USA, Inc.

*Any registered delegate may select the Professional Development Institute as their class choice. Chaplains who are attending and

seeking an Ecclesiastical Endorsement will be required to pay an additional $250.00 endorsement fee.
October 19, 2016

Greetings to you all:

It is another year for us to meet, greet, and fellowship at the Annual Congress of Christian Education 2017 Professional Development Institute for Chaplains that will convene from June 19-23, 2017 in the beautiful city of St. Louis, Missouri, I welcome all of our chaplains and bi-vocational pastors who are doing a great job in the military, in the health care system, in the penal system, in the Department of Veterans Affairs, and in other settings as you display your vast knowledge and expertise as the very best clinicians and spiritual leaders in our nation and the world as National Baptist Chaplains. I am so very proud of each one of you and pass on the same words of thanks from our National President, Dr. Jerry Young and the membership of The National Baptist Convention, USA, Inc.

Our theme for this year is: "Debunking the Stigma of Mental Health in the Black Church". Distinguished clinical and spiritual leaders will provide the training and educational insights. Dr. Shirley Alexander and Dr. Kimberly Smith will address the challenges that African American women face as chaplains, pastors and bi- vocational leaders. Dr. Tony King and Mr. Maurice Mitchell will provide clinical and spiritual insights to the assessment and identification of the mental health challenges that African American churches face and what can be done to overcome these challenges. We are extremely happy to have these great leaders as presenters for our 2017 Professional Development Institute. Please remember that The National Baptist Congress of Christian Education and The Professional Institute for Chaplains is the only mandatory meeting that is required of all chaplains to maintain your endorsement and good standing with NBC, USA, Inc. The $250.00 annual endorsement fee is required and due during the session.

I look forward to sharing in a fruitful time with you as we continue to move forward together, "Envisioning the Future Exceptionally as We Equip Disciples for Christ."

Use the link below to download this letter, the syllabus and the agenda for the meeting.


Yours Because of Calvary,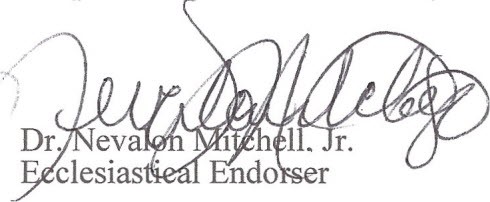 ---


Who are Chaplains?
A chaplain is an ordained clergy member who provides religious services and support to people who are hospitalized, incarcerated, or unable to attend religious services because they are on military duty. Chaplains minister in a variety of settings, including the military, parishes, hospitals, prisons, universities, and schools. Military chaplains may be assigned to ships or military bases, and they may even be deployed in war zones. Hospital chaplains serve patients and staff members, and they may also provide in-home religious services for patients who are recovering from illnesses or receiving hospice care. A chaplain's most important job is to provide religious services, spiritual guidance, and counseling to those in need. A chaplain may also give sermons to encourage spirituality and provide comfort.
National Baptist Convention, USA, Inc. Office of Ecclesiastical Endorsement
The Office of the Ecclesiastical Endorser for the NBC,USA, Inc., has been in continuous operation for over fifty-five (55) years with the express purpose of endorsing and providing spiritual support to the clergy, of this Convention, who minister to the hundreds of thousands of persons in the U.S. Armed Forces and the Department of Veterans Affairs through their respective Chaplaincy Programs.


Chaplaincy Endorsement Qualifications & Procedures (rev. 8/2017)
Endorsement qualifications are available for review and printing by clicking on the link below. The Chaplains Professional Development Institute is offered each year during the National Baptist Congress of Christian Education Annual Session to assist with the continuing education requirements. For more information about the Congress, click here.


Contact Dr. Mitchell
Please direct any questions you have about ecclesiastical endorsement or the Chaplain Institute to:
Dr. Nevalon Mitchell, Jr.
8414 Church Lane
Bowie, MD 20720
301.809.6025
Endorsernbc@gmail.com