Chaplains/Ecclesiastical Endorsement Ministry

Take Our New Chaplain Survey!



Our survey has been updated! If you are a chaplain, please take our brief survey. If you have taken the survey already, please take the new survey as the questions have been refined based on the initial information we received, and offer you an opportunity to tell us what kinds of support services you'd like to see us provide for you.

Attention All Chaplains!


Starting on February 1, 2017
Mail Your Annual Endorsement Fees to:

National Baptist Convention, USA, Inc.
Ecclesiatical Endorsements
c/o Jeanette Tatman
1700 Baptist World Center Drive
Nashville, TN 37207
---
A Message from Dr. Nevalon Mitchell, Jr.,
Ecclesiastical Endorser and Chaplain Institute Instructor


The Professional Development Institute for Chaplains
Congress of Christian Education Annual Session
St. Louis, MO - June 19-23, 2017
2017 Course Objectives/Syllabus:
Provide chaplains, pastors and participants with the tools needed to assist in the identification of potential problems with addictions and mental health issues;
Provide clinical and spiritual insight into the emotional and physical suffering that threatens the wellness of the chapel, the church, the family system, and community;
Provide basic skills and working knowledge necessary for identifying and assessing mental health challenges; substance abuse, addictions, depression, grief, and trauma;
Assist the participants in the identification of potentially harmful personal issues that may strengthen or harm their ministry;
Provide clinical, biblical, and spiritual guidelines to enable a theological understanding of pastoral care and counseling in a variety of settings;
Provide instruction on the Twelve Steps and their biblical comparison for use in the chapel, church, and group settings; and
Provide an overview of the new vision for the chaplains, ministers and others who are endorsed by The NBC USA, Inc.

*Any registered delegate may select the Professional Development Institute as their class choice. Chaplains who are attending and

seeking an Ecclesiastical Endorsement will be required to pay an additional $250.00 endorsement fee.
December 10, 2017

Greetings to you all:

We had a wonderful experience in St Louis, Missouri June 19-23, 2017. We conducted our Annual Professional Development Institute for Chaplains during our Congress of Christian Education. Our Theme for this year was "Debunking the Stigma of Mental Health in the Black Baptist Church." Dr. Shirley Alexander, Dr. Kimberly A. Smith, Dr. Tony King and Dr. Nevelon Mitchell, Jr. offered exceptional information relative to the issues of mental health and the challenges facing pastors, chaplains and congregations.

Dr. Floyd Lacey and Dr. William R. Boone received the inaugural Endorser's Bi-vocational Achievement Award for exceptional services rendered to this Institute since its inception. We again applaud them for the foundation that they laid for us and future participants in our Professional Development Institute.

I am happy to announce that Dr. William R. Boone will serve you as my Executive Administrative Director. He will provide support with all of our operational issues. He can be contacted at chaplaincynbc@gmail.com

We greatly appreciate the presence of those who were there. We will utilize some administrative procedures that will facilitate a more productive and efficient use of our time together. Thanks for your patience and thoughtfulness during our time of transition. We guarantee you that each year will get better.

Finally, I encourage you to start preparing for our 2018 Institute. The Institute will be conducted in Oklahoma City during the week of June 18-22. Speakers and subject matter will include (1) Chaplain (LTC) Steven Dabbs will address the issue of Spiritual Warfare in institutional settings. (2) Dr. Leland Jones (Lecturer) and Dr. Baxter Morris (Group Facilitator) will address "The Bi Vocational Pastor/ Chaplains duties, goals and objectives to both organizations." Dr. Morris will also discuss his duties as a chaplain in law enforcement. (3) Chaplain (Col) William Green addressing "The Chaplains responsibility to The Convention and The Military as it relates to "Transgender, Don't Ask Don't Tell DOD Policy and NBC Doctrine. Our time together will conclude with Dr. Boone offering the closing sermon. He and Chaplain Dabbs will lead us in Communion..

Yours Because of Calvary,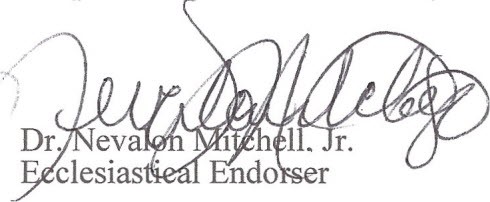 ---


Who are Chaplains?
A chaplain is an ordained clergy member who provides religious services and support to people who are hospitalized, incarcerated, or unable to attend religious services because they are on military duty. Chaplains minister in a variety of settings, including the military, parishes, hospitals, prisons, universities, and schools. Military chaplains may be assigned to ships or military bases, and they may even be deployed in war zones. Hospital chaplains serve patients and staff members, and they may also provide in-home religious services for patients who are recovering from illnesses or receiving hospice care. A chaplain's most important job is to provide religious services, spiritual guidance, and counseling to those in need. A chaplain may also give sermons to encourage spirituality and provide comfort.
National Baptist Convention, USA, Inc. Office of Ecclesiastical Endorsement
The Office of the Ecclesiastical Endorser for the NBC,USA, Inc., has been in continuous operation for over fifty-five (55) years with the express purpose of endorsing and providing spiritual support to the clergy, of this Convention, who minister to the hundreds of thousands of persons in the U.S. Armed Forces and the Department of Veterans Affairs through their respective Chaplaincy Programs.


Chaplaincy Endorsement Qualifications & Procedures (rev. 8/2017)
Endorsement qualifications are available for review and printing by clicking on the link below. The Chaplains Professional Development Institute is offered each year during the National Baptist Congress of Christian Education Annual Session to assist with the continuing education requirements. For more information about the Congress, click here.


Contact Dr. Mitchell
Please direct any questions you have about ecclesiastical endorsement or the Chaplain Institute to:
Dr. Nevalon Mitchell, Jr.
8414 Church Lane
Bowie, MD 20720
301.809.6025
Endorsernbc@gmail.com