Chaplains/Ecclesiastical Endorsement Ministry

Take Our New Chaplain Survey!



Our survey has been updated! If you are a chaplain, please take our brief survey. If you have taken the survey already, please take the new survey as the questions have been refined based on the initial information we received, and offer you an opportunity to tell us what kinds of support services you'd like to see us provide for you.

Attention All Chaplains!


Starting on February 1, 2017
Mail Your Annual Endorsement Fees to:

National Baptist Convention, USA, Inc.
Ecclesiatical Endorsements
c/o Jeanette Tatman
1700 Baptist World Center Drive
Nashville, TN 37207
---
A Message from Dr. Nevalon Mitchell, Jr.,
Ecclesiastical Endorser and Chaplain Institute Instructor


The Professional Development Institute for Chaplains
Congress of Christian Education Annual Session
Oklahoma, OK - June 18-22, 2018

The Chaplains Professional Development Institute will be held in
The Sandridge Energy
Room 542
10:00-12:00

2018 Course Syllabus
Click Here
February 27, 2018

Greetings to you!

It is with profound joy that I send this information to you about our 2018 annual Chaplains Professional Development Institute. This year we will be meeting from June 18 – 22, 2018 at the Cox Convention Center in Oklahoma City, Oklahoma. Please plan to attend the entire Institute, pay the annual fee of $250.00 to maintain your good standing status and Ecclesiastical Endorsement, and pay a $100.00 registration fee for the Chaplains Professional Development Institute.

This year Chaplain William Green will provide instruction on leading chaplains in a Post-DOMA (Defense of Marriage Act) Environment. Chaplain Steven Dabbs will provide instruction on Spiritual Warfare in Institutional Settings. Dr. Leland Jones will present from a military perspective insight and instruction for our bi-vocational pastors. Pastor Matthew Watkins will lecture on Mental Health First-Aid and chaplains' duties, goals, and objectives in an organizational setting.

On Wednesday, June 20, 2018, we will have our first Endorser Luncheon under my leadership as Director. The world-renowned Buffalo Soldiers from Lawton, Oklahoma and Fort Sill, will post our colors and be our special guests. Dr. George E. Young, Oklahoma State House of Representatives, will also be a special guest and offer a welcome message.
Consistent with the tradition established in 2017 we will recognize three outstanding members of the Chaplains and Endorser Team.

Our honorees this year will be Mrs. Wessylyne Kaye Mitchell, Ms. Liz Williams, and Chaplain (Colonel) Greg Edison.
The Reverend Dr. Calvin Cage, one of our honorees from 2017, will be our keynote speaker and will present on the topic of Challenges of Bi-Vocational Pastors and Chaplains.

Chaplain Steven Dabbs will assist me in conducting a Communion Service on Friday, June 22, 2018. Certificates of attendance and completion will be issued to close our 2018 Institute.

Registration
All attendees for the Chaplains Professional Development Institute are required to pay a $100.00 registration fee.
Checks or money orders should be made payable to The National Baptist Convention, USA, Inc. Enter "Annual Endorsement Fee," "CPDI Registration" or both in the notes section of the check or money order, as applicable. Please ensure that your name and contact information are printed and legible. The finance office will send a receipt that acknowledges your payment(s). Keep your receipt, and bring it with you to the Chaplains Professional Development Institute.

Download the Professional Development Registration Form

Please submit Fees to:
Ecclesiastical Endorser c/o
Ms. Jeanette Tatman
National Baptist Convention USA, Inc.
Finance Office
1700 Baptist World Center Drive
Nashville, TN 37207

On-site payments should be provided to me for delivery and processing by Ms. Tatman.

Please confirm registration and attendance for the 2018 Chaplains Professional Development Institute by sending an email to me at endorsernbc@gmail.com.
Hotel Accommodations
Please contact Mrs. Marsha Dupont, 718-346-9290, Toll-fee 866-531-3003.


Yours Because of Calvary,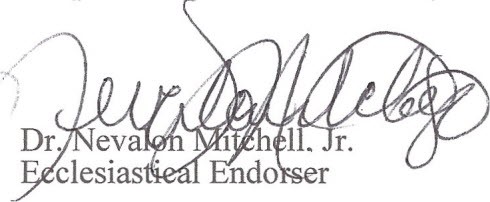 ---


Who are Chaplains?
A chaplain is an ordained clergy member who provides religious services and support to people who are hospitalized, incarcerated, or unable to attend religious services because they are on military duty. Chaplains minister in a variety of settings, including the military, parishes, hospitals, prisons, universities, and schools. Military chaplains may be assigned to ships or military bases, and they may even be deployed in war zones. Hospital chaplains serve patients and staff members, and they may also provide in-home religious services for patients who are recovering from illnesses or receiving hospice care. A chaplain's most important job is to provide religious services, spiritual guidance, and counseling to those in need. A chaplain may also give sermons to encourage spirituality and provide comfort.
National Baptist Convention, USA, Inc. Office of Ecclesiastical Endorsement
The Office of the Ecclesiastical Endorser for the NBC,USA, Inc., has been in continuous operation for over fifty-five (55) years with the express purpose of endorsing and providing spiritual support to the clergy, of this Convention, who minister to the hundreds of thousands of persons in the U.S. Armed Forces and the Department of Veterans Affairs through their respective Chaplaincy Programs.


Chaplaincy Endorsement Qualifications & Procedures (rev. 8/2017)
Endorsement qualifications are available for review and printing by clicking on the link below. The Chaplains Professional Development Institute is offered each year during the National Baptist Congress of Christian Education Annual Session to assist with the continuing education requirements. For more information about the Congress, click here.


Contact Dr. Mitchell
Please direct any questions you have about ecclesiastical endorsement or the Chaplain Institute to:
Dr. Nevalon Mitchell, Jr.
8414 Church Lane
Bowie, MD 20720
301.809.6025
Endorsernbc@gmail.com