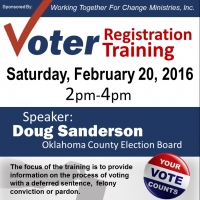 Voter Registration Training On Feb 20 Offered by the Oklahoma Baptist State Convention Prison Ministry
By Donna K. Thompson | February 19, 2016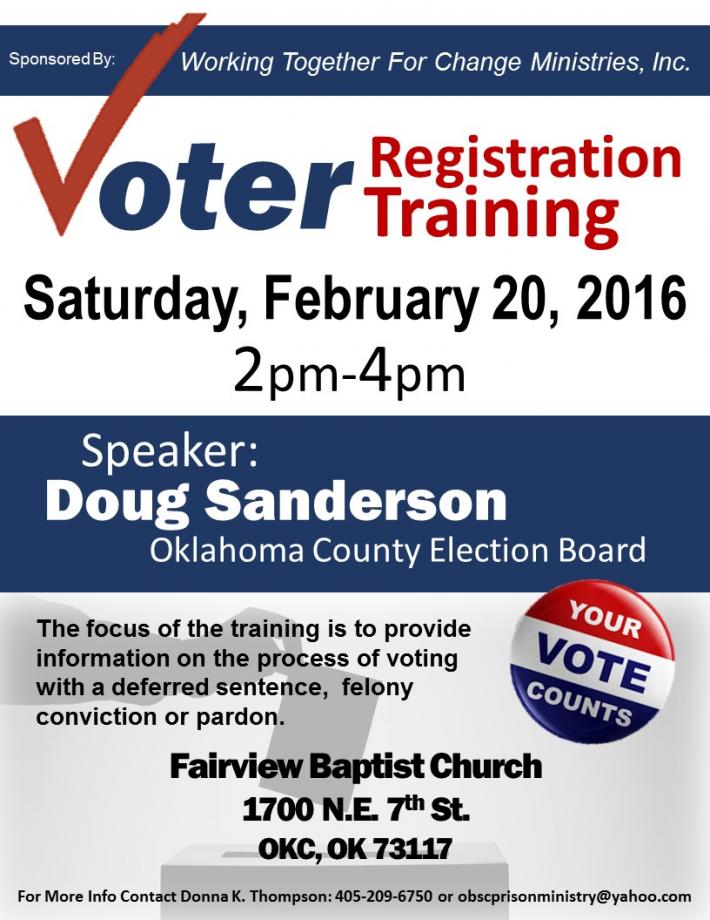 On Saturday February 20, 2016 "Working Together For Change Ministries, Inc." will sponsor a Voters Registration Training. The focus of the training is to provide information on the process of registering those with a deferred sentence, felony conviction and a pardon. We are asking each church or organization to send representation.


There are many churches and organizations who provide voter's registration and are doing a wonderful job. Unfortunately, some of them are unclear on the rights to register and vote with a felony conviction. Many believe that once you are convicted of a felony you can never register and vote. This is not a true statement. Once a person has completed his/her sentence (calendar days) he/she can register and vote. Example: if a person is given a 3 year sentence once the 3 years has expired he/she is eligible to register and vote.




The training will be held at Fairview Baptist Church 1700 N.E. 7th - OKC, OK 73117
2:00 p.m.- 4:00 p.m. Keynote Speaker Doug Sanderson (OK County Election Board). We invite churches, groups, community leaders and organizations who provide voters registration to join us to obtain this important information. During this training information will be provided on the registration. absentee ballots, precincts, state questions, voting process including a deferred sentence, felony conviction, and a pardon. This is a FREE event. Please join us.
---
For more information please contact Donna K. Thompson 405-209-6750 or obscprisonministry@yahoo.com
Oklahoma Baptist State Convention Prison Ministry
Donna K. Thompson - Director
P.O. Box 36188
Oklahoma City, OK 73136
Contact # (405) 209-6750
Fax (405)232-5459
Back