The Music and Worship Arts Auxiliary is On the Move at Annual Session!
By Dr. Angelique Banks Coleman | July 30, 2014
The Music and Worship Arts Auxiliary of the National Baptist Convention, USA, Inc. under the leadership of Dr. Angelique Banks Coleman is preparing a marvelously melodious time for our delegates attending the 134th Annual Session in New Orleans, LA! You are invited to participate in and/or attend the following events to be held September 1-5, 2014:
Join The Music Auxiliary
Submit Your Original Composition to be Performed During the Annual Session (Deadline: August 15)
Nominate A Living Legend Serving 40 years or more in the Music Ministry (Deadline: August 1)
Looking for 500 Voices! Sing in the Convention Choir
Following President Coleman's Annual Session Message, scroll down to view the details of each opportunity.
---
President Coleman's 2014 Annual Session Message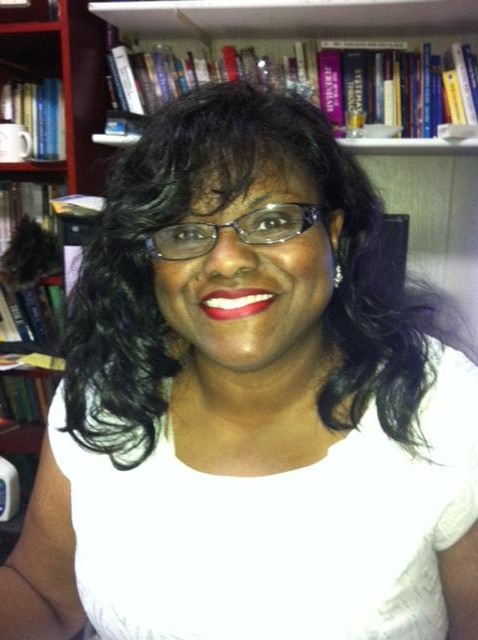 August 2014

A Message from the Desk of Dr. Angelique Banks-Coleman
President, Music [and Worship Arts] Auxiliary

Dear Worshipper:
All roads lead to New Orleans, the city known as the most unique city in the United States. New Orleans, the Crescent City, the Big Easy, is known as the birthplace of jazz, which is a direct descendant of the spiritual, the first, true American music. This early form of jazz is known as Dixieland and it brings to mind "Basin Street Blues," and the rhythmic rendition of "O When the Saints God Marching In" heard boisterously, as mourners leave the cemetery after burying a loved one. The spiritual, early jazz and the blues will ultimately lead us to Gospel music where, in its inception, it borrowed tunes from the secular melodies of jazz and the blues.

New Orleans is also the home of the New Orleans Saints football team. Well, the saints of God will come to New Orleans to "lift high His royal banner" in praise and adoration to our God. We come to New Orleans "for His glory!" The Psalmist says, "Ascribe to the LORD the glory due his name; worship the LORD in the splendor of his holiness" (Psalm 29:2). We come to worship Him in spirit and truth. We come to give Him glory through teaching, preaching, praise, fellowship and witnessing. It is our prayer that as a result of our being there persons all over this "unique" city will come to know our unique and awesome Lord and Savior Jesus the Christ.

We will have classes, workshops and seminars, specifically geared toward those who serve in the Worship Ministries of their church, particularly music, dance and media. We are certainly looking forward to a Spirit-filled time with the saints in New Orleans as well as those from across the country.

This year the Northeast Region had a concert and live recording in New York City in June. The recording of that wonderful concert will be available for purchase at the Annual Session in September. Bring your Christmas list and purchase a CD for everyone on that list. The CD's are only $10.00. You can pick up your CD at the Music [and Worship Arts] Auxiliary booth in the Concessions area at the Convention Center.

On a sorrowful note, the Music [and Worship Arts] Auxiliary mourns the loss of our Vice President of the Southwest Region, the Reverend Albert Green. We are praying for his family and church families as they move through this time of grief.

Finally, we have been planning for your arrival and hope you have planned to be with us this year.

Blessings!

Angelique Banks Coleman, President
Music [and Worship Arts] Auxiliary
---

Join the Music and Worship Arts Auxiliary!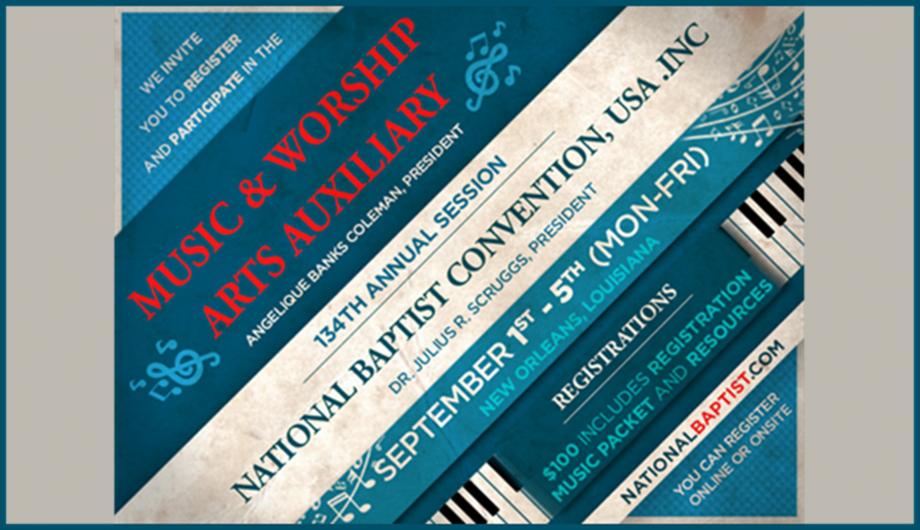 ---

Attention All Song Writers!
The Music [And Worship Arts] Auxiliary is seeking compositions to be used at the Annual Session which will be held in New Orleans, September 1 -5, 2014. We are seeking all genres of church music; however, we prefer music that is workshop friendly as we will have a limited amount of time to rehearse and perfect them.
Please submit no more than three songs.
Each song submitted must contain the following information:
1. Composer Information
2. Composer Name
3. Composer Mailing Address
4. Composer Email Address
5. Composer Phone Number
6. Church Affiliation (NBC, USA Affiliation preferred, but not required)
Please submit a PDF of the music score with your song. No lyric sheets or illegible music scores will be accepted.
Also, please scan your submissions for viruses prior to submitting. Any submissions containing viruses will not be accepted.
Song Submission Preferences are as follows:
Digital Submissions
MP3 or WAV Files are the preferred format of submission. Each song should be submitted in separate emails. The files may be submitted via email to:
Eddie A. Robinson at earob01@aol.com.
Tape or CD Submissions
Mail CD or Cassette Tape to:
Eddie A. Robinson
New Mount Olive Baptist Church
400 NW 9th Avenue
Fort Lauderdale, FL 33311
If your song is selected, we will contact you with details regarding its usage.
Deadline for Song Submissions is Friday, August 15, 2014 at 12:00 midnight
.
If you have any questions you may contact Eddie Robinson via email at earob01@aol.com
or at 954-463-5126.
---

Recognizing Our Living Legends
Is there someone at your church who has served in Music Ministry for 40 years or more? We would like to honor them at the
J. Robert Bradley Scholarship Night
.
The Music and Worship Arts Auxiliary
Living Legends Award
recognizes Ministers of Music and/or musicians who have served faithfully for 40 years or more. Please submit your nomination.
---
Make a Joyful Noise! Your Invitation to Sing in the Auxiliary Choir
Looking for 500 Voices
First Rehearsal in on Monday September 1
---



For more information about the Music and Worship Arts Auxiliary, click here



For more information about the Annual Session, click here
Back