National Baptist Convention USA, INC & NAACP Announce Historic Voter Empowerment Partnership
May 11, 2012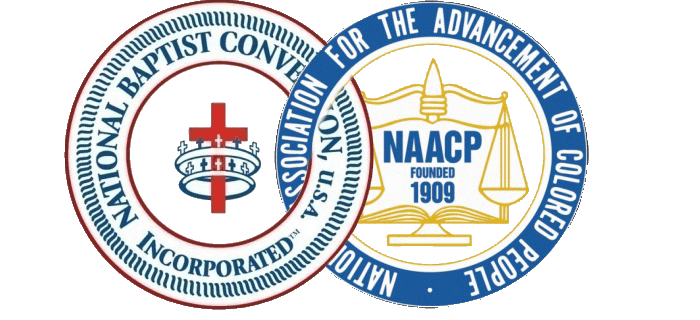 (Nashville, TN) May 1, 2012. The National Baptist Convention USA, Inc. (NBCUSA) and the NAACP are delighted to announce this historic partnership for voter empowerment ahead of the 2012 elections. Our organizations will work together over the next several months to register, educate, and activate tens of thousands of voters across the country. This partnership is the first of its kind.

From voter registration to voter education to voter protection, this partnership with the NAACP will allow the NBCUSA to engage more than 10,000 of our congregations across the country in the electoral process. With attacks on voting rights – including cuts to Sunday voting – emerging in state after state, it is critical that we stand together to ensure that all of our voices are heard and that all of our votes count on Election Day.

In 2008, voters of color – particularly African American voters – turned out in record numbers to cast a ballot. However, in the last year, more than 30 states have introduced voter suppression laws that disproportionately impact African American voters. These laws include strict voter ID requirements, cuts to early/Sunday voting and restrictions on voter registration by 3rd party groups.
For the 2012 cycle, our two organizations will work to combat the attacks on voting rights and continue high participation trend through coordinated registration, education, and Get Out the Vote efforts conducted throughout our churches, conventions and sessions of NBCUSA.

Over the next several months, our Churches will receive training on voter registration through the NAACP. Additionally, The NAACP will distribute alerts on changes in voter laws at the local level; educate congregants on legislative matters that affect their communities; and ensure that church-goers turn out to the polls and are protected on Election Day...Read More

Back