National Baptist Congress Scholarship Program for 2013
By Mrs. Pansy R. King, Chairperson | August 15, 2012
Mrs. Pansy R. King, Chairperson - New Jersey
Dr. Gwendolyn Packnett, Co-Chairperson – Missouri
Click here to download the complete Guidelines and Application for 2013
Note: Scholarship Awards will be made during the Congress Annual Session. First deadline to meet is September 15, 2012!!
Scholarship Applicant Requirements
The scholarship applicant must:
A. Be a member in good standing of a church that is currently registered with the National Baptist Convention USA Inc. and the National Baptist Congress of Christian Education.
B. Currently be enrolled in high school with satisfactory progression toward graduation in the year the application is awarded or already matriculating in college.
C. Possess a cumulative Grade Point Average (GPA) of not less than 2.5 (un-weighted) on a 4.0 scale.).
D. Provide an official transcript or an original copy of the most recent report card.
E. Have been in attendance at the National Baptist Congress of Christian Education and participated in the Youth Division activities 2012, the year prior to submitting an application, and provide a copy of the certificate received.
F. Provide written evidence of participation in community activities.
G. Submit the application packet to their local district association president/ moderator on or before September 15, 2012, the prescribed deadlines set by the National Baptist Scholarship Committee.
H. Write a 400 to 600 word essay. The essay is to include your:
a. life experiences
b. future goals, how and why those goals were chosen
c. your plan to achieve those goals and the timeline related to the accomplishment of those goals.
Essay must be typed, double spaced, using a 12 point, Times New Roman font.
I. Submit three (3) letters of recommendation, on original letter head, to include the following persons:
Pastor (required)

Youth Director, Sunday School Superintendent, or person within the church leadership

Teacher, guidance counselor, principal, etc.
J. Submit typed application only.
K. Be submitted to the National Baptist Scholarship Commission and postmarked no later than midnight December 15, 2012.
L. The decision of the National Scholarship Commission is final.
Submit all applications to: National Baptist Scholarship Commission
Mrs. Pansy R. King
29 Newfield Street
East Orange, NJ 07017-5410
Important Deadlines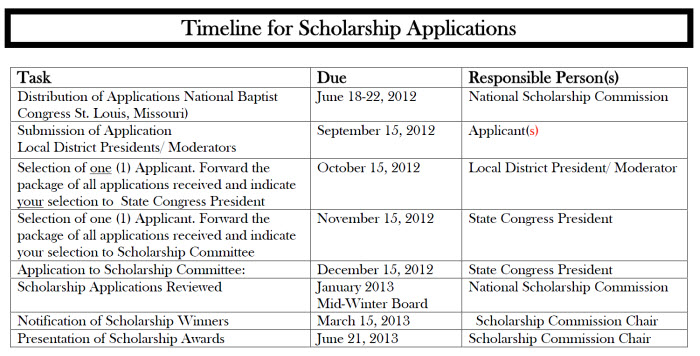 NOTE: All due dates with the exception of the December 15, 2012 are flexible.
Back