Musicians are Preparing for the Children's Rally at the Congress Annual Session
By Denise Mayhan, Webmanager, NBC | May 15, 2016
The 111th Annual Session of the Congress of Christian Education will soon be upon us! One of the highlights of every Annual Session is the Children & Youth Rally where thousands of our young people present in music, word, dance and song - it's truly a multimedia experience! The musicians who will lead the musical portions of the presentation have been busy at work, getting ready to usher in lots of little people who have a LOT of energy and creativity. This photo of musicians preparing for the Children's Rally was shared with us by Jonathan Askew: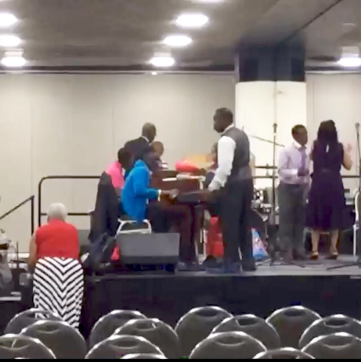 Jonah on the Keyboard and Raymond on the Organ practicing
the Worship Medley by Tye Tribbett after Children's Rally
as parents and children watch.
Following tradition, the Rallies will be held on the last day of the Annual Session meeting, Friday June 24, 2016. This is an event that you don't want to miss!
Preregistration for the Congress Annual Session will remain open until May 31, 2016. Click here for more information and to register:

Back