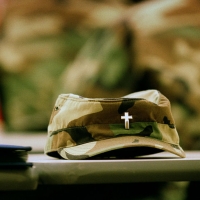 Message to All Chaplains from Dr. Nevalon Mitchell, Jr., Ecclesiastical Endorser
By Dr. Nevalon Mitchell, Jr. | February 11, 2016
February 2016


Dear Brothers and Sisters in Christ,

The Professional Development Institute for Chaplains
Congress of Christian Education Annual Session
Tampa, FL - June 20-24, 2016
This course provides professional and personal development training and updates through class participation, presentations, didactic learning with an emphasis in professional chaplains training in a Military, Department of Veterans Affairs, or other Institutional settings. A wide range of topics are covered to explore the nature, work and expectations placed on chaplains. This class will offer opportunities for chaplains and ministers to obtain National Certifications and State Licenses for personal and professional enhancement and development. Participants will be kept abreast of the mission, practices, policy matters and ministry requirements of The National Baptist Convention, USA, Inc.
A full agenda has been planned for the Institute in Tampa which includes presentations on Post-Traumatic Stress Disorder, Post-Traumatic Church Disorder, Mental Health First Aid, and Holistic Wellness. The chaplains will also receive a
Chaplains Handbook/Guide
that will address a variety of resources and benefits that are available to the chaplains, as well as facts concerning the purpose and function of the chaplain.
It is with profound gratitude to God and President Jerry Young that I greet you as the new National Baptist Ecclesiastical Endorser. I am grateful to Dr. Charles Thomas for the trailblazing work he did for the past l7 years, and Dr. Floyd Lacey for his service and wisdom while serving as the Chaplains Professional Development Director. Both of these men of God deserve a great deal of credit for making my job easier as I transition into the role of the Endorser. As the new Endorser, I plan on assisting chaplains and ministers in the National Baptist Convention to become more effective and efficient in ministry, as well as in their personal and professional lives.

I want to thank President Cokley for allowing the chaplains' professional development class to resume this summer in Tampa. We plan on providing a new National Baptist Endorser Handbook/Guide to each chaplain and minister while in Tampa. We also have Dr. Kimberly Smith, who will provide her approach on a more effective way to provide ministry in the 21st Century to those who serve through holistic and therapeutic ministries. Dr. Smith will place emphasis on ministry to people who suffer from post-traumatic stress disorder (PTSD) and post-traumatic church disorder. Mr. Maurice Mitchell and Mr. Lawrence Johnson will discuss how the chaplains and ministers in the National Baptist Convention will be able to access vital and pertinent information regarding the convention and chaplaincy affairs. Finally, I will provide assistance to chaplains and ministers in obtaining national certifications and state licensure for personal enhancement, professional development, and advancement in their careers.

Please note that the National Baptist Congress of Christian Education is the only annual and mandatory meeting that all chaplains and ministers are required to attend. In addition, the annual fee of $250.00 is due during the session. It is an honor and a privilege to serve as a chaplain who is a member of The National Baptist Convention USA, Inc. Your witness and testimony is a direct reflection of our values and love for our Lord.

I am grateful for this marvelous opportunity to serve you and the members of this great and storied body of believers. It is with pride and humility that I will work as a member of the Home Mission Board under Reverend Gilbert Pickett, Sr., Executive Secretary and Reverend Leonard o. Griffin, Chairman. I look forward to meeting each one of you as we move forward together "Carrying the Compassion of Our Christ" while "Envisioning the Future Exceptionally".


Keep the faith and we will see you in Tampa.


Back