Laymen Support Mission Efforts in Nicaragua
By Brother Charlie Richmond, Laymen Foreign Mission Liaison | May 27, 2015
Foreign Mission Effort
There will be a mission trip to Nicaragua in August of this year sponsored by the Foreign Mission Board. This is our poorest Mission Station. We have four (4) churches there with 275 members, and three (3) schools with 478 students. Zion Baptist Church is located on the Mission Station grounds in Bluefields, Nicaragua. Church members walk over 12 miles to and from church. Unemployment rate is 90%. The people eat off the land and fish out of the sea.
The pastors living quarters are in really bad condition, churches and schools are in need of repairs also. The call has gone out through me for the help from laymen who have renovation skills to help make repairs. I will validate this request upon my visit there and report my findings.
It has been approved by President Burke to solicit funds from the brothers nationally to fund this trip, and also provide funds for the playground equipment that was mentioned at the Annual Session in New Orleans for the children at our Mission Station in Swaziland where I visited in August of last year.
The cost per person is $1,850.00 plus flight to Philadelphia, PA and International Health Insurance, (estimated $2,500). A $400.00 deposit is due by May 30th, with the balance due by July 10, 2015. I'm asking everyone to join in on funding this mission trip. If you recall at the annual session in New Orleans I mentioned a project of funding playground equipment for the children at our Mission Station in Swaziland, South Africa where I visited in August 2014. The cost of purchasing and installing the playground equipment is $2,200.00.
Your gifts will be a blessing to me as well as the little children in Swaziland. Please pray and ask the Holy Spirit for guidance in these efforts. May God bless each of you is my prayer. Thanks in advance. For additional information please contact Brother Charlie Richmond @ 903-521-8444.
Please forward all donations payable National Baptist Laymen (Foreign Mission Effort) c/o Brother Antonio Christian P.O. Box 915 San Leandro, CA 94577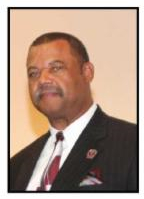 Brother Charlie Richmond
Laymen Foreign Mission Liaison

Click here for information from the Foreign Mission Board on the trip to Nicaragua
Back