January is National Glaucoma Awareness Month
By Dr. Michael Minor | January 10, 2012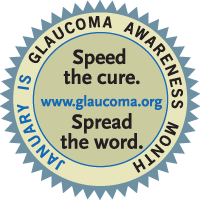 January is National Glaucoma Awareness Month, an important time to spread the word about this sight-stealing disease.
Glaucoma is called "the sneak thief of sight" since there are no symptoms and once vision is lost, it's permanent. As much as 40% of vision can be
lost without a person noticing.

Glaucoma is the leading cause of preventable blindness. Moreover, among African American and Latino populations, glaucoma is the leading cause of blindness, and it is more prevalent.
Back