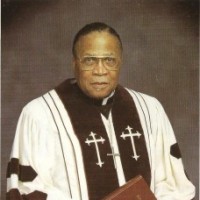 Homegoing of Reverend Charlie H. Brown, Former Treasurer of the Home Mission Board
By Sister Evelyn Mason | July 2, 2012
Former pastor led the Somerset church for 26 years
Former Treasurer of the National Baptist Convention, USA, Inc. Home Mission Board
(SOMERSET, NJ) – Rev. Charlie H. Brown, former pastor of First Baptist Church of Lincoln Gardens, died early Thursday morning (6/28/2012) after a long illness, his family members confirmed.

Rev. Brown, who was 91, served as senior pastor of First Baptist Church of Lincoln Gardens (FBCLG) from October 1963 to June 30, 1989. He was the second pastor of the Somerset church.

The viewing will be from 8-9:45 a.m., Saturday. The service will begin at 10 a.m. at FBCLG, 771 Somerset St., Somerset, NJ 08873. The burial is scheduled for Monday at Franklin Memorial Park, 1800 Route 27, North Brunswick, NJ 08902. The time for the burial hasn't been determined.

"When I arrived at FBC in 1990, Rev. Brown met me at the door and welcomed me to the church. From that day until the hours I spent with him two weeks ago, he was my strongest supporter and best advisor. He was an ecclesiastical giant and a great pastor. We will be indebted to his 26 years of dynamic leadership forever," said Rev. DeForest B. Soaries, Jr., senior pastor of FBCLG, who succeeded Rev. Brown.

Rev. Brown, a former sergeant with 20 years of military service, had been a frequent visitor to First Baptist while stationed at Camp Kilmer in Edison, NJ. He became interim pastor in March 1963, when Rev. Clifton G. Wooding, the founding senior pastor, became ill.
Rev. Brown brought to First Baptist a sense of history and a structured approach to the ministry. His gift was a highly chronicled period that produced a historical legacy to the church. The church continued to grow and develop, never forgetting the history, but also staying in stride with the turbulent 1960s, the triumphant 1970s the "Me" 1980s and finally taking the church to the brink of the 1990s, when once again First Baptist would change leaders, but continue to move forward.
Rev. Brown provided a different type of leadership. Under his direction fundraising became a method of enhancing fellowship, as well as, building and renovating the church. Youth development and training reached a high point as future leaders were trained and supported.

Under the leadership of Rev. Brown, FBCLG's congregation grew from several hundred to 3,000 members and he oversaw the construction of a church auditorium and addition that connected the church to the parsonage.

At the time of Rev. Brown's retirement, the church had approximately 20 deacons, 27 trustees, an assistant to the pastor, seven associate ministers, one full-time and one part-time secretary. There was a fully-staffed nursery school that operated during Sunday morning service. The church was in the midst of planning for a new church. The new building project began in 1985. At the time of Rev. Brown's retirement, the congregation already had more than $1million in the Building Fund.

Rev. Brown, a native of Columbus, Georgia, was preceded in death by two sons and his wife, Edith, who died in April 2003. He leaves two daughters, Linda Brown and Mary Hunter, and his FBCLG family.


Evelyn Mason, Administrative Assistant
Middlesex Central Baptist Association of NJ
609.888.3895 Land
609.418.0718 Cell
evelynmason@verizon.net E-mail
Back