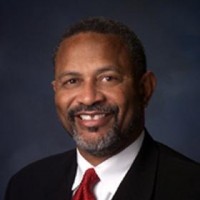 Homegoing of Rev. Dr. Drew E. Marshall - July 2, 2011
By By Trinity Missionary Baptist Church | June 28, 2011
The Rev. Drew E. Marshall, pastor of Trinity Missionary Baptist Church in Pontiac, died Saturday June 25, 2011 at St. Joseph Mercy Oakland.
Dr. Marshall will lie in repose from noon to 8 p.m. Thursday, June 30, at Cobb's Funeral Home, 151 Orchard Lake Road, Pontiac. He will lie in state from 2 to 8 p.m. Friday, July 1, at Trinity Missionary Baptist Church where the family will receive friends from 6 to 8 p.m.

The funeral service will be at 11 a.m. Saturday, July 2, at Trinity Missionary Baptist Church, with burial at Perry Mount Park Cemetery.
He was born and raised in Pontiac. As a small child, he attended New Bethel Missionary Baptist Church and was later baptized there by his childhood pastor, the Rev. Amos G. Johnson. Following his graduation from high school, Rev. Marshall acknowledged his calling to the gospel ministry. On Dec. 14, 1974, he preached his initial sermon and was licensed to proclaim the gospel by the Rev. Amos G. Johnson.
In 1975, he accepted his first ministerial staff position at the Trinity Missionary Baptist Church of Pontiac, under the pastoral leadership of the Rev. Robert E. Bailey. In 1976, he graduated with a Bachelor of Arts degree from the University of Michigan in Ann Arbor. Having prayerfully considered his future in ministry, and after consulting with the Rev. Bailey, Rev. Marshall made a decision to make ministry his full-time vocation and began his plans to enter seminary. In 1984, he graduated from the Colgate Rochester Divinity School in Rochester, New York, with a Masters of Divinity degree.

After graduating from the seminary, he returned to Trinity Missionary Baptist Church for ordination before assuming his second full time church staff position.

In October 1984, Rev. Marshall accepted the Minister of Christian Education position at New Faith Church in Houston, Texas.

The Rev. T. R. Williams Sr., the senior pastor of New Faith Church, afforded Rev. Marshall the opportunity to freely employ his spiritual gifts and mentored him as he continued to pursue his call to ministry.

In 1997, the Rev. Williams moved Rev. Marshall to the position of New Faith Church assistant pastor. While serving as assistant pastor, Rev. Marshall began his doctoral studies. In May 2002, Rev. Marshall was awarded the Doctor of Divinity degree from Virginia Union University School of Theology in Richmond, Va.

After 20 years of service at New Faith Church, Rev. Marshall resigned his position as assistant pastor to accept the call to become the 19th pastor of Trinity Missionary Baptist Church of Pontiac in 2005. Dr. Marshall was active with the National Baptist Convention USA Inc., and also served as chairman of the National Baptist Congress of Christian Education Single's Conference for four years under the leadership of then president Dr. R.B. Holmes, an instructor in the Michigan Wolverine State Convention and the Crystal Lake Baptist Missionary District in Pontiac.

In lieu of flowers, donations may be made to St. Jude Children's Hospital Sunday of Hope. Envelopes are available at the church located at 113-123 Wessen St., Pontiac, MI 48341. For more information contact the church at 248-334-5043.
For more information contact:
Trinity Missionary Baptist Church
248-334-5043
Back