Greater Louisiana Baptist Convention, Inc. On a Mission
By Women's Auxiliary of the Greater Louisiana Baptist Convention, Inc. | August 30, 2011

August 2011

Recently ladies representing the Women's Auxiliary of the Greater Louisiana Baptist Convention, Inc. under the presidency of Dr. Willie Maynard, Jr., delivered 100 sets of linen, towels and other supplies to tornado victims in Tuscaloosa, AL. This was a project coordinated by Gloria D. Crayton, President of the Women's Auxiliary and items were collected from the women representing their churches attending the first Annual Session of the Convention that was held in Baton Rouge, LA in July.

Maxine D. Abrams, Southwest Regional Vice President of the Women's Auxiliary of the National Baptist Convention USA, Inc. and Pastor Phrelle O. Fowler of Morning Star Baptist Church, Holt, AL greeted the ladies at the distribution center and allowed victims to shop for goods they needed. Crayton also presented Pastor Fowler with a check to assist with the relief effort from Dr. Leo D. Cyrus, President of the Congress of Christian Education and pastor of New Hope Baptist Church and Second Baptist Church in Baton Rouge, LA.

Crayton, along with Hilda DeBose and Romy Coleman, officers of the auxiliary, departed from Good Hope Baptist Church in Lafayette where Dr. Ricky E. Carter is pastor and Dean of Congress of Christian Education. Their journey to Tuscaloosa enabled them to see the devastation that still remains and hear the testimonies of many of the victims that are still without homes that were destroyed by the tornado earlier this summer.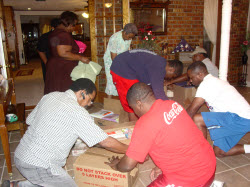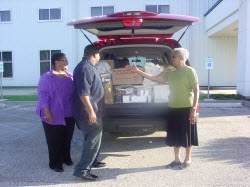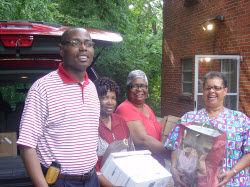 Back