Go Red for Women - Take a Stand Against Heart Disease!
January 14, 2013

Celebrate our 10th anniversary of National Wear Red Day®
by showing your spirit and painting your town red!

Since the Go Red For Women® movement started in 2004, more than 627,000 women's lives have been saved. But the fight is far from over. Now is the time to shout louder, stand stronger and Go Red For Women.
That's why we challenge you or your group to shine the spotlight on heart disease in women by helping to turn America Red from coast to coast through February.
Whether it's your home, your local landmark, your workplace or club, support women fighting heart disease with a spectacular show of red.

Then, snap a picture and upload it to GoRedForWomen.org/WearRedDay or post it on our Facebook page at Facebook.com/GoRedForWomen.


The America Goes Red Challenge runs
Monday, Jan. 7 through Thursday, Feb. 28 at 6 p.m. EST.
Sign up for tools, resources, ideas and materials for your event at:
http://www.GoRedForWomen.org/WearRedDay

Get the Go Red Challenge Guide:
http://www.goredforwomen.org/~wearredday2013/challenge-how-to-guide-12122012.pdf

Learn More about Go Red for Women Day:
http://www.goredforwomen.org/wearredday/about/

Learn more about Go Red for Women at the American Heart Association: http://www.goredforwomen.org/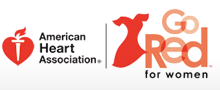 Back