First Lady Michelle Obama's Challenge to the NBC, USA, Inc.: 10,000 Health Ambassadors by September
By Rev. Michael O. Minor, EdD | February 17, 2012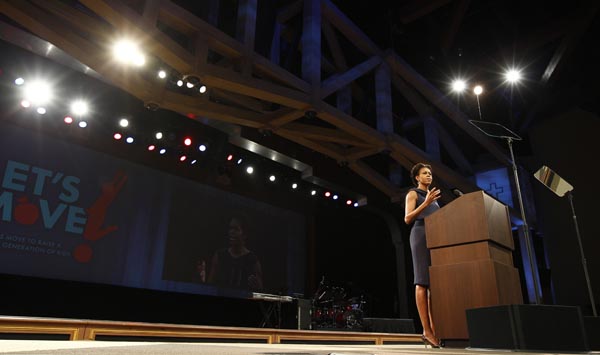 U.S. First Lady Michelle Obama spoke at Northland Church in Longwood, on Florida February 11, 2012 as part of a three-day trip to mark the two-year anniversary of her "Let's Move" initiative. In her remarks, Mrs. Obama called out the National Baptist Convention, USA, Inc. to train and deploy 10,000 health ambassadors, reaching 10,000 of our churches. Ms. Obama stated:
"So as part of "Let's Move," we wanted to work with you from the very beginning. We wanted to learn from our faith communities. And we wanted to do everything we could to support and highlight your magnificent efforts. And that's why we started a special program called Let's Move Faith and Communities to challenge more of our organizations and congregations to take up this cause...

Groups like the National Council of Churches have joined with an organization called Ample Harvest to help gardeners donate fresh produce to 4,700 of their local food pantries. (Applause.) The National Baptist Convention is aiming to have health ambassadors at all of their nearly 10,000 churches by September. And some of their churches have already created "no fry" zones in their congregations." (reference to Dr. Michael Minor's initiative at Oak Hill Baptist Church in Hernando, MS)
The National Baptist Convention, USA, Inc. has become a significant contributor to the First Lady's "Let's Move" health initiative. Read the full transcript at: First Lady at Northland Church 2/11/2012
Listen to the Speech
The Health Ambassador Challenge
During this speech the First Lady mentioned "No Fry Zones" and "Taste Test Sunday"- both are healthy eating initiatives born in National Baptist Churches. She also challenged us to reach the goal of 10,000 Health Ambassadors by September 2012. Health Ambassadors - individuals trained to lead healthy living programs at their local churches - are a product of the H.O.P.E. initiative of the Congress of Christian Education. Won't you join the movement to train and develop at least two (2) Health Ambassadors in every National Baptist Convention, USA, Inc. church?
Are you up for the Challenge of 10,000 Health Ambassadors? Click here to sign up:
Yes, I am up for the Challenge of 10,000 - Sign me up!
Back