Dr. Julius R. Scruggs Presented Key to the City of Omaha
By Toni Demetria Smith, Special Assistant to the President | August 18, 2011
By: Toni Demetria Smith, Special Assistant to the President
New Era Baptist State Convention of Nebraska, Inc.
Dr. Cedric L. Perkins, President
Contact: tonismith@newerabaptiststateconventionofne.com
Omaha, Nebraska – On Tuesday evening August 9, 2011, City of Omaha Mayor Jim Suttle presented a proclamation and a key to the city to Rev. Dr. Julius Richard Scruggs President of the National Baptist Convention USA, Inc. during the 94th Annual Session of the New Era Baptist State Convention of Nebraska, Inc., Rev. Dr. Cedric L. Perkins, President.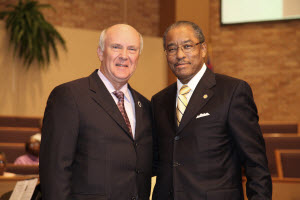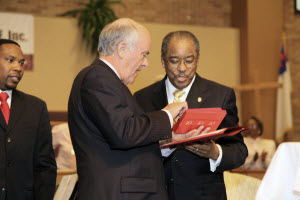 Dr. Scruggs was the guest speaker for the Wade, Williams, Whittington Scholarship Service honoring the legacy of three great preachers - Pastor J. C. Wade, Sr. (Salem Baptist Church), Pastor J. H. Whittington (Mt. Nebo Baptist Church), and Pastor Z. W. Williams (Morning Star Baptist Church and Prince of Peace Baptist Church). The WWW Scholarship Service, along with the media ministry proceeds from the DVD sales, will help towards scholarships to assist New Era youth in continuing their educational journey.

Dr. Scruggs shared his NBC, USA, Inc. vision with New Era, the Omaha community, guests from Ames, Iowa, Des Moines, Iowa and the Kansas City, Missouri surrounding area regarding Kingdom Building and the stewardship responsibilities pertaining to each pastor and church in order to enhance and prepare the convention for the future years. His comments were also helpful regarding the local and foreign mission work in assisting the tornado victims and others during a disaster. He has shared his message during his engagements at various member churches, district associations, and state conventions. His inspirational message was proclaimed from Genesis 22:1-14, "Lessons Learned from a Loyal Leader". He reminded us the Lord will provide for us through the many difficulties and challenges ahead. We must trust God fully and obey Him completely.

Prior to being elected as the seventeenth President of the National Baptist Convention, USA, Inc., Dr. Scruggs received numerous academic accolades, authored four books, served on several boards, received numerous prestigious awards, preached at various locations throughout the nation, and has been the Senior Pastor of First Missionary Baptist Church for thirty-four years. He is a much sought after minister for his biblically-based, doctrinally sound, and life-centered preaching and teaching. His campaign theme of "Solidarity with the Savior" has clearly reflected the Christ-centered ecclesiology that is guiding his administration. The NBC, USA, Inc. is the largest black Baptist convention. It serves millions of members from churches, district associations and state conventions across the continental United States and around the world.

Rev. Dr. Scruggs' last visit to Omaha was in February 2004 during the Installation Service for Rev. Cedric L. Perkins, Senior Pastor of Pilgrim Baptist Church while serving as the Vice President at Large under the Shaw Administration. Dr. Scruggs was the former President of the Alabama State Missionary Baptist Convention (President Emeritus) where Dr. Perkins former pastor of Little Zion Missionary Baptist Church, Rogersville, Alabama worked closely with him prior to moving to Omaha from Huntsville, Alabama. Dr. Perkins is a Board Member at Large for the National Baptist Convention, USA, Inc., a faculty member for the National Baptist Congress of Christian Education, Senior Pastor of Pilgrim Baptist Church, and served on the Scruggs-Young NBC President Committee.

New Era Baptist State Convention of Nebraska, Inc. was the Local Host Committee and President Dr. Cedric L. Perkins Local Host Chairman for the NBC, USA, Inc. Western Region Conference May 11-13, 2011 in Omaha. Dr. John A. Reed, Jr., Vice President Western Region and Dr. Claybon Lea, Jr. Assistant Vice President Western Region were both in attendance.

New Era will serve as the Local Host Committee for the NBC, USA, Inc. Western Region Youth Conference in July 2012.

For additional information regarding the New Era Scholarship or any other New Era activity, please contact the New Era Headquarters Office at (402) 502-2828.

Photos provided by Bells Photography, LLC. www.bellsphoto.com
The special presentation can be seen on You Tube: http://youtu.be/dyk4FltZ2dc
Back