Dr. Michael O. Minor to Participate in Delta Regional Authority 2011 Policy Conference Panel
November 8, 2011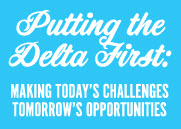 Dr. Michael Minor of the Congress HOPE initiative will participate in a panel discussion as part of the Delta Regional Authority Conference.
Main Stage Panel: "Growing a Healthy Delta"
Tuesday, November 15, 2011 - 12:30 pm to 2:00 pm
Wally Allen Ballroom
Peabody Hotel - Three Statehouse Plaza - Little Rock, AR
The highly accomplished panelists include:
Dr. Michael O. Minor, Local, Regional and National Champion of Faith-Based Health and Wellness Mobilization
Ronnie Musgrove, Former Governor of Mississippi and Chair of the National Advisory Committee on Rural Health
Dr. Marcia Brand, Deputy Administrator, Health Resources and Services Administration
Mark Kennedy Shriver, Vice President and Marketing Director, Save the Children
Commander David Dietz, HHS Office of Minority Health
Moderated by: Steve Jones, Deputy Director, Arkansas Department of Human Services

A healthy workforce is essential to growing the Delta economy and creating jobs. In fact, a recent Gallup poll showed that chronic health issues could cost the national economy more than $153 billion a year. Delta communities understand this challenge better than most: our people die from circulatory diseases, complications associated with diabetes and cancer at a much higher rate than communities across the nation. We can and must do better. That's why the Delta Regional Authority is committed to improving health outcomes throughout the Region. This panel will convene leading advocates from every sector to tackle the basic challenge of providing quality, affordable health care, community-based program implementation and health education to our people so we can compete economically for generations to come.

A full copy of the Conference agenda, including a listing of the evening activities, can be found at
Delta Regional Authority 2011 Policy Conference, linked to through the Delta Regional Authority's website.
Back