Dr. Julius R. Scruggs Speaker for the 50th Anniversary of the Bombing at 16th Street Baptist Church
By Latoyia M. Clemons | September 23, 2013
Birmingham, Alabama
September 15, 2013
[Marker photo
credit:
AP Photo/Hal Yeager]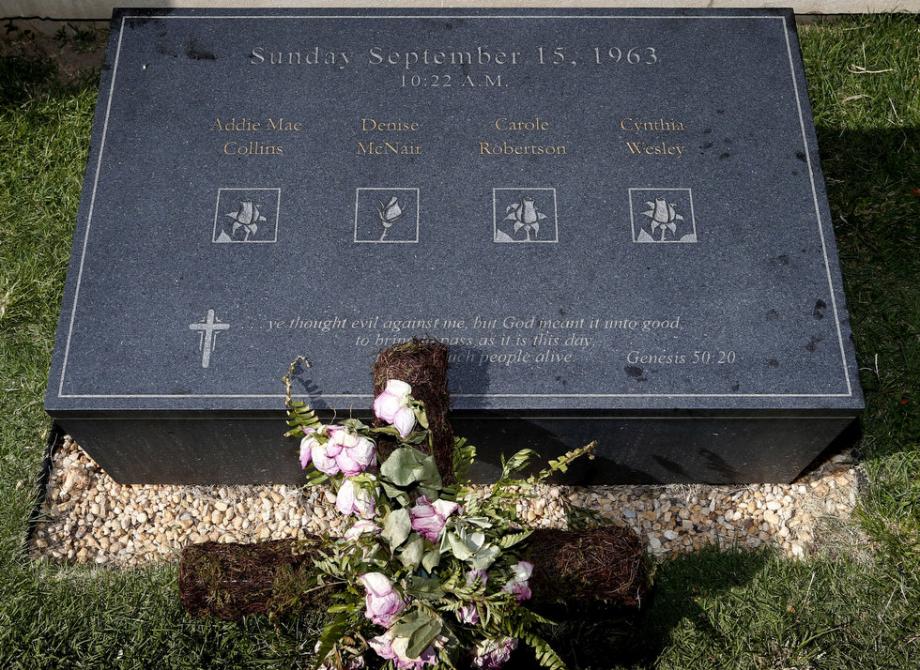 At 10:22 am, September 15th 1963, a bomb exploded at 16th Street Baptist Church killing four little girls, Addie Mae Collins, Denise McNair, Carole Robertson, and Cynthia Wesley. The sermon by Rev. John Cross, pastor of 16th Street Baptist Church at that time, was not heard that day.
Now, 50 years later, history is made once again as Dr. Julius R. Scruggs, President of the National Baptist Convention, USA, Inc. delivers the sermon "From Tragedy to Triumph" (Romans 8:37 - 38) which focused on " A Love that Forgives" which was the Sunday School lesson that members of 16th Street Baptist Church heard the morning of the bombing. During the sermon, Dr. Scruggs, stated, "God said you may murder four little girls, but you won't murder the dream of justice and liberty for all." "You may murder four little girls, but I will make them my four angels of change." "Those who planted the bomb had their plan backfire against them." "What they meant for evil, God meant for good." "What looked like tragedy, God turned it into triumph." Hundreds of people, including the families of the girls filled the church to remember those killed that became a landmark moment during the height of the Civil Rights Movement. Sarah Collins Rudolph, the sister of Addie Mae Collins, who was critically injured as a child during the bombing was in attendance.
Earlier in the morning Dr. Scruggs was a part of the ringing of the bell ceremony which took place at 10:22 am. Some persons in attendance were Rev. Arthur Price, Rev. Jesse Jackson, Dr. Bernice King, U. S. Representative Terri Sewell, bombing survivor Sarah Collins Rudolph, family members of the four little girls, church members and many others. The bell rang four times in remembrance of each of the four little girls whose lives were taken. After the bell ringing ceremony, all walked to the exact place where the bomb exploded, for the laying of the wreath. At the conclusion of the ceremony Dr. Scruggs gave the closing prayer.

Rev. Julius Scruggs, third from left, leads people in prayer during a wreath laying ceremony at the 16th Street Baptist Church in Birmingham, Ala., Sunday, Sept. 15, 2013. The congregation gathered outside the church for the wreath laying ceremony at the spot where a bomb was detonated 50 years ago by the Ku Klux Klan, killing four young girls. Rev. Jesse Jackson is fourth from left. U.S. Rep. Terri Sewell, D-Ala., is second from left. (AP Photo/Hal Yeager)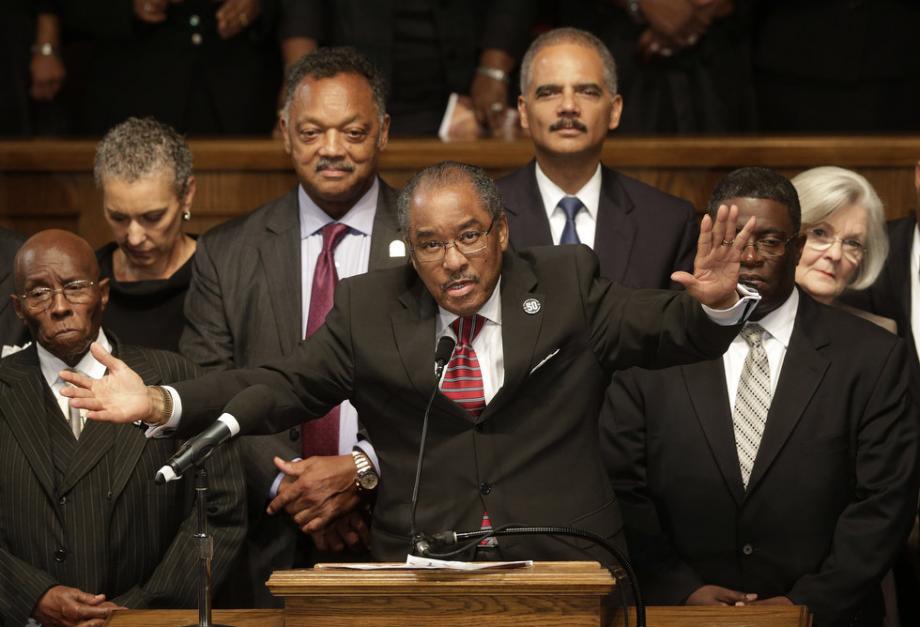 Rev. Julius Scruggs addresses the congregation at the 16th Street Baptist Church in Birmingham, Ala., Sunday, Sept. 15, 2013. The church held a ceremony honoring the memory of the four young girls who were killed by a bomb placed outside the church 50 years ago by members of the Ku Klux Klan. At left rear is Sharon Malone, wife of U.S. Attorney Eric Holder, fifth from left.
Rev. Jesse Jackson is third from left. (AP Photo/Dave Martin)


To view a photojournal
of this event, click on this link:
http://photos.oregonlive.com/photo-essay/2013/09/50th_anniversary_ceremony_hono.html
Back