Dr. Julius R. Scruggs, immediate past president of the NBC, USA, Inc., celebrates 39 years as Pastor at First Missionary Baptist
By Latoyia Clemons | March 3, 2016
"Leadership Worth Following"
Huntsville, Alabama, March 1, 2016 – First Missionary Baptist Church will celebrate the 39th Pastoral Anniversary of the Reverend Dr. Julius R. Scruggs Sunday, March 20, 2016, during 8 a.m. and 10:45 a.m. worship services with the theme "Leadership Worth Following" with the scripture, "Remember your leaders, who spoke the word of God to you. Consider the outcome and their way of life and imitate their faith" Hebrews 13:7. The Reverend Dr. Don Darius Butler, Pastor of the Tabernacle Community Baptist Church in Milwaukee, Wisconsin, will deliver the sermon for both services.
Dr. Scruggs became pastor at First Missionary Baptist Church in 1977. His servant-leadership style and his personal integrity has allowed the development of several ministries including the witnessing/evangelism teams, jail ministry teams, scholarship funds, congregational care, children's church, health fitness, recreation ministries and others. In 1982, he started the FMBC Child Development Center only offering pre-school. Today, the CDCA goes through fifth grade. In 2014, Dr. Scruggs completed his term as President of the National Baptist Convention, USA Incorporated.
Dr. Scruggs' journey of pastoring has allowed him to preach the Good News of the Gospel and provide spiritual counseling that has enriched the lives of many. With joyful hearts, FMBC's Official Board, congregation, elected officials, family, friends, and guests will commemorate this special day for Dr. Scruggs, First Lady Josephine Scruggs and family on Sunday, March 20, 2016, during both 8 a.m. and 10:45 a.m. worship services. First Missionary Baptist Church is located at 3509 Blue Spring Road, Huntsville, AL. For more information, call or email Latoyia Clemons (256) 457–1370 lm_clemons@yahoo.com or Chris Robinson (256) 520–2394 robinicpr@gmail.com.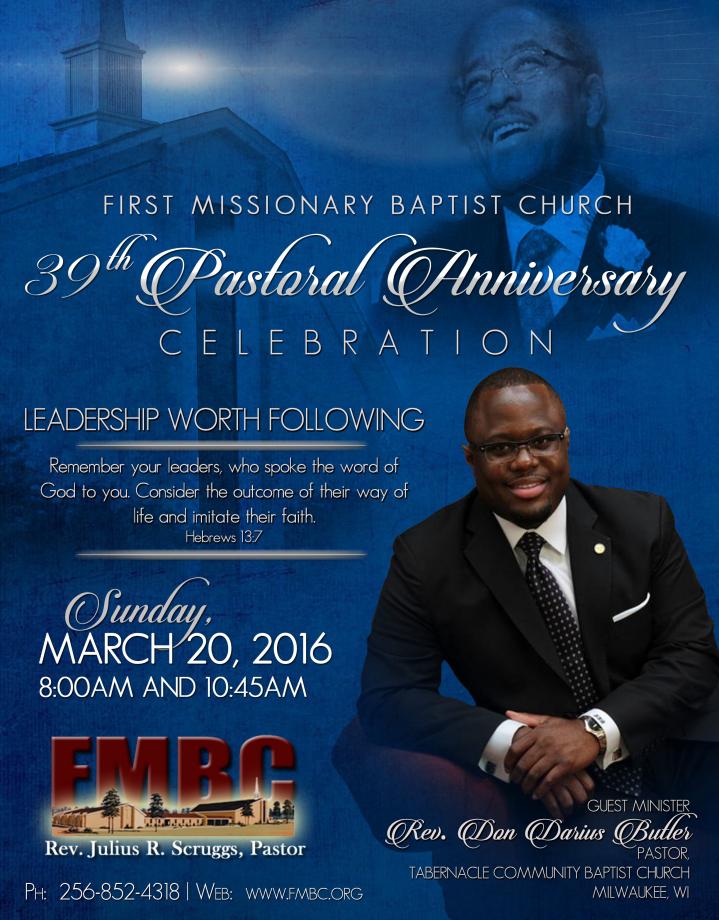 Back