Day of Community Service - 9.2.2013
By Joe Muse, NBC Hosting Committee of the Carolinas | August 2, 2013
Day of Service 9.2.13
10:00 am to 2:00 pm
Help Us Reach Our Goal of 300 Hours of Volunteer Service to the Community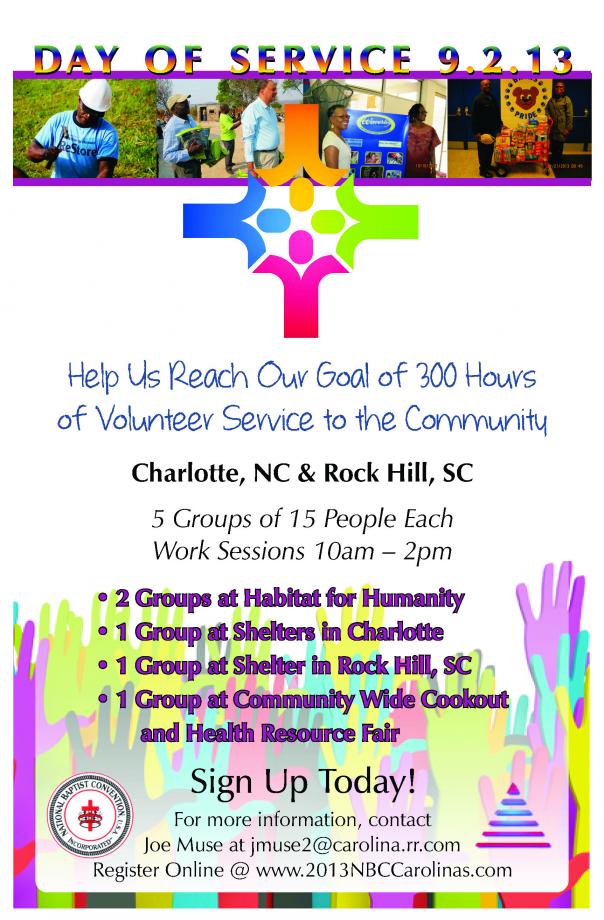 The Local Host Committee of the 2013 Annual Session scheduled to be held in Charlotte, NC is sponsoring a day of community service - all are invited to contribute to helping reach the goal of 300 hours of volunteer service. There are four community service activities planned to occur from 10:00 am to 2:00 pm on September 2, 2013 as follows:
• 2 Groups at Habitat for Humanity
• 1 Group at Shelters in Charlotte
• 1 Group at Shelter in Rock Hill, SC
• 1 Group at Community Wide Cookout and Health Resource Fair

The Details
We will have a community-wide Cook-out and Health Resource Fair at First Mount Zion Baptist Church on Remount Road in Charlotte. This function will be done with the Mecklenburg County Health Department and in addition to providing lunch for 1500 people there will be blood pressure screenings as we as other health information distributed. We need volunteers to help in serving people as well as directing, crowd control and clean-up activities.
Approximate 100 – 150 patrons from the Salvation Army Center of Hope will be special guests at the cook-out. A separate dining facility has been reserved and we will need volunteers to help service the needs of these individuals for the luncheon scheduled.
We carry lunch from the cookout to the Renew Our Community Shelter in Rock Hill. In addition to serving the lunch, we will plan to do other clean-up and beautification activities while there. Transportation will be provided for the trip to Rock Hill South Carolina and back.
Habitat for Humanity has built over 1200 affordable homes in the Charlotte Community over the past 30 years. This ministry has afforded thousands of God's Children the opportunity to move from sub-standard housing into decent living conditions and into a home of their own. The Habitat for Humanity ReStores is a big source of revenues to fund these homes in Charlotte. Since 1996, the two Habitat ReStores in Charlotte have funded the building of 96 homes and, in recent years, has averaged more than 12 homes funded per year. We need two groups of volunteers to help make this home ownership a reality for others by working in re-arrangement and merchandising activities in the two Charlotte ReStores.

The Logistics
We are asking volunteers to gather at First Mount Zion Missionary Baptist Church, located at 1515 Remount Road in Charlotte, NC 28208, at 9:30 am on September 2 for specific assignment and direction. Volunteers need to be at least 18 years of age and are asked to wear comfortable, casual clothing and shoes that they won't mind getting dirty. There will be no strenuous or dangerous work activities. Further communications and direction will be emailed to all who have signed up.

Sign Up
To sign up, visit
www.2013NBCCarolinas.com
and click on the "Volunteer Opportunities" button.

Contact
If you have any further questions or need more information, please feel free to contact: Joe Muse at
jmuse2@carolina.rr.com
Click here to download the flier
Back