Congressman Rev. Emanuel Cleaver II Set to Keynote Education Banquet
By Kansas City Host Committee | July 28, 2016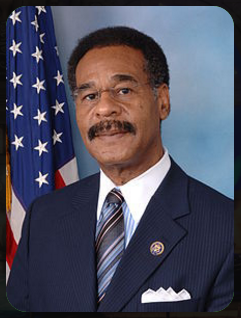 On Tuesday, September 6, 2016, 6:00 p.m. will be the President's Educational Banquet. Congressman Rev. Emanuel Cleaver II will be the keynote speaker.

Emanuel Cleaver, II is now serving his sixth term representing Missouri's Fifth Congressional District, the home district of President Harry Truman. He is a member of the exclusive House Financial Services Committee, the Ranking Member of the Subcommittee on Housing and Insurance, and also a Senior Whip of the Democratic Caucus.

Having served for twelve years on the city council of Missouri's largest municipality, Kansas City, Cleaver was elected as the city's first African American Mayor in 1991.

During his eight year stint in the Office of the Mayor, Cleaver distinguished himself as an economic development activist and an unapologetic redevelopment craftsman. He and the City Council brought a number of major corporations to the city, including TransAmerica, Harley Davidson, and Citi Corp. Cleaver also led the effort, after a forty year delay, to build the South Midtown Roadway. Upon completion of this major thoroughfare, he proposed a new name: The Bruce R. Watkins Roadway. Additionally, his municipal stewardship includes the 18th and Vine Redevelopment, a new American Royal, the establishment of a Family Division of the Municipal Court, and the reconstruction and beautification of Brush Creek.

Cleaver has received five honorary Doctoral Degrees augmented by a bachelor's degree from Prairie View A&M, and a Master's from St. Paul's School of Theology of Kansas City.

TO PURCHASE TICKETS
There are two types of tickets, General Admission $50.00 and V.I.P. $100.00.
The V.I.P. tables will be in the front of the ballroom across from the dias.
For more information and to purchase tickets, visit: Education Banquet

ALL TICKETS MUST BE PAID FOR AND RECEIVED BY AUGUST 26TH
Back