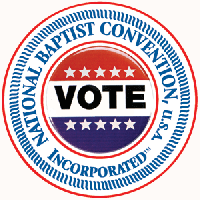 CLARIFICATION: NBC, USA, Inc. 2014 Elections: Number of Votes
February 5, 2014
Each Church, District Association or State Convention (Entity) may be eligible to cast up to five (5) votes for the election for President of the National Baptist Convention, USA, Inc. The election will be held during the
134th
Annual Session in New Orleans, LA, September 1-5, 2014. Each entity is granted one vote for each year it has registered with the Parent Body of the Convention with at least the minimum registration fee for a Church, District Association or State Convention in each of the following years: 2010, 2011, 2012, 2013 and 2014.
The Entity must have accumulated a minimum of two (2) votes to participate in the election
.
Specifically, this means that the Entity must have registered, at minimum, in 2014 and at least one other year between 2010 and 2013.
The Entity MUST be registered for the 2014 Annual Session with at least the minimum registration to cast their vote(s) in the election.
For future updates on the election as they become available, visit:
Elections and Voting
Back