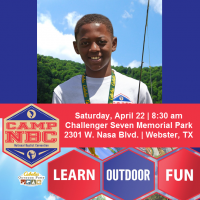 Camp NBC Registration Open for Webster, TX, April 22
By Genesis Watkins, Director | March 16, 2017
What is Camp NBC?
Camp NBC is a partnership of the National Baptist Convention, USA, Inc. and the Cabela's Outdoor Fund, was established in 2015. Camp NBC is supported through a four-year grant by the Cabela's Outdoor Fund. It is our hope that Camp NBC will reach the children of the National Baptist Congress through life-changing, spiritual outdoor learning experiences and offer fresh perspectives on career and recreational options and opportunities.

Registration is Open Now for:
TEXAS
Saturday, April 22, 2017
Challenger Seven Memorial Park
2301 W. Nasa Blvd.
Webster, TX
Download Flier
|
Download Registration Form
Back