Call for the Second Annual Congress Parade of States
February 16, 2012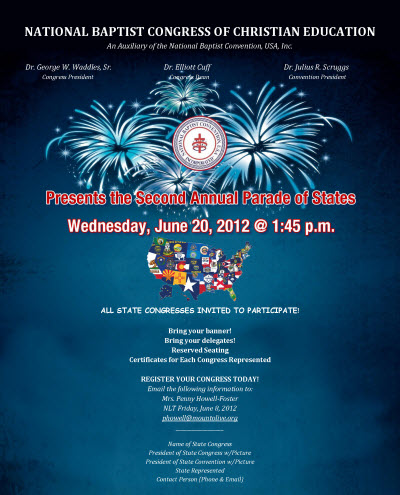 OFFICE OF THE CONGRESS PRESIDENT

January 6, 2012

To the State Congress Presidents of the National Baptist Congress:

Greetings in the Name of our Lord and Savior, Jesus Christ.

I am pleased to announce that we will sponsor the Second Annual "Parade of States" this year in St. Louis, MO during our National Baptist Congress of Christian Education week. Once again, I am asking each State Congress to bring your delegates and participate in the parade. Last year's cheers and chants were phenomenal and I believe that we can exceed the number of States that participated if we begin planning now.

The only requirements are that you bring a banner that represents your State Congress, along with your excitement, chants, and cheers. The Congress President will lead the delegates in for that State. The aisles are approximately 20 feet wide, so banners should be able to fit in that space.

To give us ample time to see and hear each State, the parade will be held on Wednesday, June 20, 2012 at 1:45 p.m. during the Afternoon Plenary Session. I believe that this will add to the momentum from last year.

Please let us know if your State Congress will participate by emailing Coordinator Penny Howell-Foster at: phowell@mountolive.org as soon as possible. At that time, please submit the name of your State Congress, the name of the State Congress President, along with his/her picture as well as the name of the State Convention President, and the State that you are representing. She will also need the name and contact information for the person who will serve as the liaison for this event.

Thank you in advance for your participation, and I look forward to an exciting week in St. Louis.

In the Bonds of the Spirit,
Dr. George W. Waddles, Sr., President
National Baptist Congress of Christian Education
1460 W. 78th Street – Chicago, IL 60620
Phone: (773) 651-3250 Fax: (773) 641-2653
Email: Natlcongresspres@gmail.com
Back