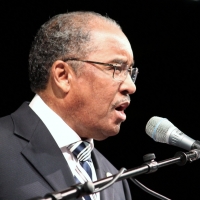 Annual Session Message from President Scruggs
By Dr. Julius R. Scruggs, President of the NBC, USA, Inc. | August 13, 2013
August 6, 2013

Dear Beloved Pastors and Members of NBC, USA, Incorporated:

I was blessed to see many of you at the NBC Congress of Christian Education in St. Louis, Missouri in June. I hope you are now ready for our Parent Body gathering in Charlotte, North Carolina during the week of September 2-6, 2013. We are anticipating a glorious and fruitful experience as we worship God and conduct the business of our Convention.

I am delighted to report to you that our National Baptist Convention School (American Baptist College) has been designated as a historically Black college. That means that we are now eligible to receive federal funds designated for historically Black colleges and universities. Obviously this fact helps to secure our financial future as an institution. However, this does not mean that our support as a convention should be less. The accreditation association continues to monitor our support as the parent institution and evaluate accordingly. Also, let's keep in mind that the renovation of Griggs Hall Dormitory is underway and needs our continued support. The new roof is finished and new windows have been installed. Now, the inside must be totally renovated and furnished. This will cost over a million dollars. Pastors and churches are asked and encouraged to sponsor a room at a cost of about $10,000.00. We have already pledged to do two rooms. Upon completion of the rooms, your name and your church's name will be on a plate on the room for which you have paid.

Let's be generous in our giving during our Annual Session. The minimum church representation is $400.00. I hope that most of us will bring or send more. Even though our church gives $1,000.00 per month for our Convention's missions and ministries, we plan to represent in September with an additional $2,000.00. Please do your best. I will share other concerns with you during my annual address on Thursday at the Convention. Let us be prayerful. Until then, may God chart your courses daily.

For the cause of Christ,

Julius R. Scruggs, President
National Baptist Convention, USA, Inc.

P.S. Please be aware that September 2014 is an election year. Each church and constituent body should ensure that you are financially prepared to cast your vote(s). Let us all pray for a successful and Godly election.
Back