50th Jubilee Celebration of African Churches Takes Place in Uganda!
By Rev. Dr. Angelique Walker-Smith | July 15, 2013
By Rev. Dr. Angelique Walker-Smith, Executive Director of The Church Federation of Greater Indianapolis
Published in the Indianapolis Recorder Newspaper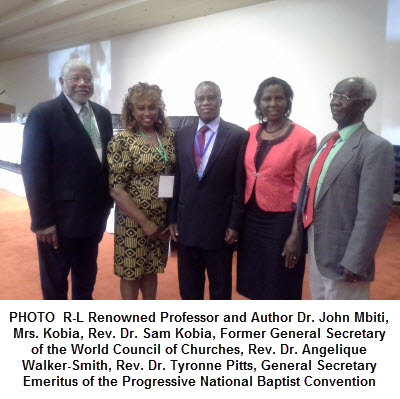 150 years ago the Emancipation Proclamation
was signed and Africans in Diaspora in the USA were proclaimed to be free by executive order of President Lincoln. Although there were Africans in the Diaspora throughout the Americas who were liberated from the shackles of slavery before this time and after this time. Such liberation did not mean, however, that economic prosperity would accompany such actions of the governments of that time.During this same period, the height of the missionary movement was taking place during the colonial period on the African continent. One of those places on the African continent where this was taking place was Uganda.

This painful history was remembered at the All Africa Conference of Churches (AACC) 50th Anniversary Assembly that happened June 3-9, of this year. AACC was conceived in Ibadan, Nigeria and born in Kampala, Uganda. I was honored to be at the AACC 50th anniversary along with other members of belonging to the group of Africans in Diaspora throughout the Americas and Europe. The AACC represents more than 120 million African Christians in 174 national churches and regional Christian councils. The AACC 50th celebration followed the 50th celebration of the African Union (previously the the Organization of African Union-OAU) where government leaders, including Secretary of State John Kerry and Ambassador Rev. Michael Battle, spoke. The AU celebration was held in Ethiopia in May of this year. These 50th anniversaries also happen in the same year as the 50th anniversary of the March on Washington that will observed in August of this year.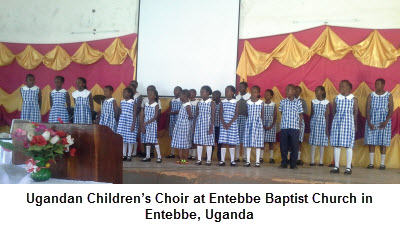 At the AACC 50th anniversary, President Musevemi of Uganda, who is a Christian, was a highlighted speaker. His message concerning the history of Christianity in Uganda mirrored the story of Christianity in African countries throughout the continent. He stated the first non-blacks came to Uganda from Islamic countries in the 1850's and white people came in 1862. He specifically pointed out that the first missionaries came in 1877. He spoke of his personal story and the story of Uganda relative to Christianity. His spoke of his great grandmother who came from the Congo forest in Uganda who eventually accepted Christ and how she was an example of the amazing growth of Christianity in Uganda and throughout the African continent. Africa and Latin America have some of the highest number of Christians in the world. In fact, North America and Europe have some of the smallest numbers of Christians in the world.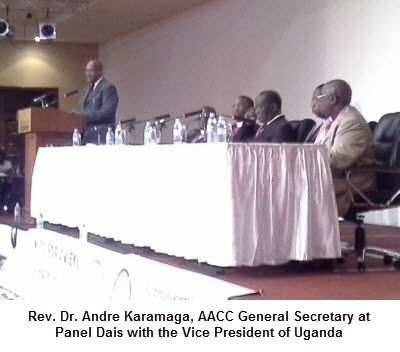 The AACC approached the matter of being at the center of the growth of Christianity today in a holistic manner. While they celebrated the confessions of Christ throughout the churches and various Christian movements throughout Africa, they spent considerable time shaping a vision for Christ that would promote a way of life for the future spiritual and material prosperity of Africa. For the AACC this means a continent that promotes life of the African people with justice,peace and dignity. Indeed the theme was: "God of Life, Lead Africa to Peace, Justice and Dignity." The matter of dignity was an important value for the churches gathered from 40 different African countries. The gathering of church leaders included Heads of Churches, women, youth and children. The AACC churches affirmed that dignity comes from the Biblical message of women, men, youth an children being made in the image and likeness of God as found in the creation story in Genesis 1: 26-27. The image of God meaning we are created as spiritual beings reflecting the image of God but that we also share the likeness of God in our diversity. Therefore we are called to live a life that is God centered and God-like. Other Biblical messages were also cited as teachings that deepen this basic Christian principle.

The Assembly offered meaningful worship, prayers, messages,presentations and discussions that addressed the main theme. The fellowship among African church leaders, African Christians in Diaspora, world church leaders, dignitaries and guests on the occasion of the Jubilee year of the AACC was rich and an inspiration for the spiritual journey of all who participated.

All Africa Conference of Churches (AACC): http://www.aacc-ceta.org/
Back